Join Us For Our Events
Charitable Gift Annuities
Not all annuities are created equally.
"A Win/Win Gift for both the Donor and Charity"
Presented to you by our Development Department
Please join us on Tuesday, August 23rd at 1:00 pm In the Village Center Classroom. Director of Development, Tim Fisher will be discussing how to make a gift to Graceworks and receive a fixed stream of income for life.
Not all annuities are created equally. When you hear the term annuity what comes to mind? Many individuals, immediately think of a commercial/insurance annuity, which is something they have been advised against having. At the August 23rd seminar, we will explore how they are different.
Did you know that you can make a gift to support the future of Graceworks Lutheran Services and receive payments for life in return? This unique gift called a charitable gift annuity (CGA) is a simple way to support our mission while receiving a dependable income for life and qualifying for tax benefits. During our time together, we will answer the following questions and many more.
What is a charitable gift annuity and how does it work?
How is a charitable gift annuity different than a commercial/insurance annuity?
Why should I consider this type of gift?
How does a charitable gift annuity benefit our organization?
Come learn about this exciting gift that can benefit both Graceworks and you!
Please sign up for this informational seminar at the Village Center Registration Desk OR reply to Darla Kaufman at dkaufman@gracew​orks.org
For more information on Charitable Gift Annuities, please visit our website at: https://graceworks.planmylegacy.org/charitable-gift-annuities

View Our Calendar
You can access our monthly activity calendar easily on your mobile device. It's as easy as downloading the LifeShare Mobile App to view each calendar for our specific locations.
Follow these steps:
Go to the app store on your mobile device by tapping the icon
Search "LifeShare Mobile App" in the search bar
Download the app
Log in with the appropriate PIN
The PINs are as follows:
| Community | Community Access PIN |
| --- | --- |
| BRC | brc |
| Independent Living | bethanyvillage |
| Blossom Park | blossompark |
| Cascade | cascade |
| Cherry Park | cherrypark |
| Crescent Crossing | crescentcrossing |
| Gardenview | gardenview |
| Pavilion (Ground) | pavilion1 |
| Pavilion (First Floor) | pavilion2 |
| Vista Place | vistaplace |
| Woodview | woodview |
After having lived in our previous home and raising our family for 50 years, we just became residents at Bethany a few months ago. From the very beginning of our search to downsize, and for so many positive reasons, we chose to move to Bethany. In addition, even during the year of COVID when things were not normal, everyone with whom we came in contact, could not have been more kind or more helpful. We have been welcomed and made new friends from day one. Now things are beginning to open back up, and we are excited to participate in the many activities available to us here.
Gary and Sondra
I cannot imagine a place that is superior in providing the care our Mom is receiving. Our concerns are listened to and addressed. The communication with our family is stellar, the staff is compassionate and welcoming. There are activities which address her spiritual being along with her social/emotional and memory needs.
Cynthia E.
We are so blessed to have our mom at Bethany Village. She loves the staff, the food, and activities; couldn't ask for a better place for her to live. Thank you Bethany Village staff and the entire team.
Janice M.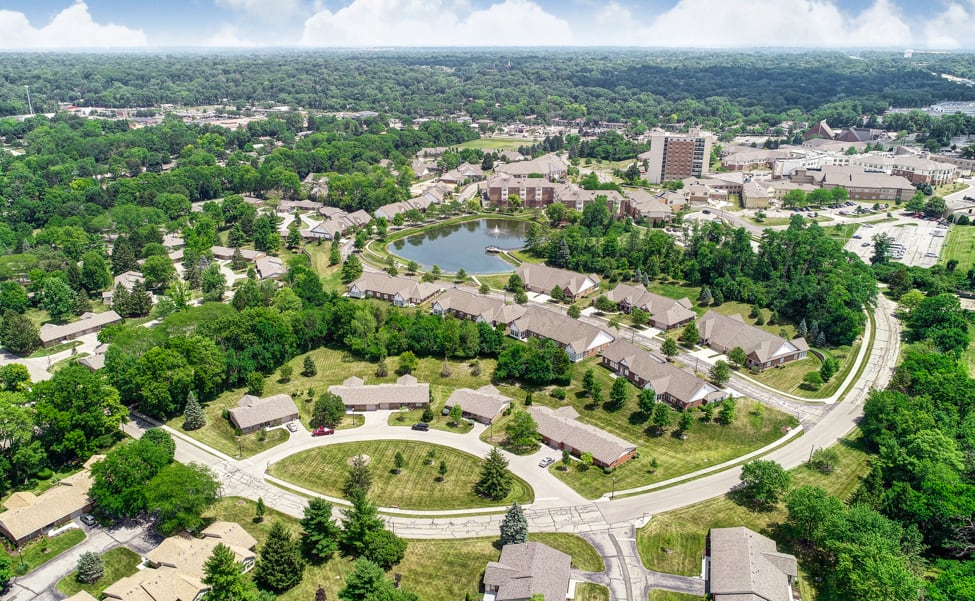 Our Address
6443 Far Hills Avenue

Dayton

,

OH

45459
Our Hours
Our campus is open every day of the year, all day long.
Sales Office Hours
Monday

:

8:00 AM

–

5:00 PM

Tuesday

:

8:00 AM

–

5:00 PM

Wednesday

:

8:00 AM

–

5:00 PM

Thursday

:

8:00 AM

–

5:00 PM

Friday

:

8:00 AM

–

5:00 PM

Saturday

:

Closed

Sunday

:

Closed