Life Enriching Activities
Our Life Enrichment team carefully plans a full calendar packed with richly engaging activities and events to keep you as busy and active as you choose. Staying active is an important part of staying well. Board the bus for off-campus events or shopping trips, join friends for a game night, catch a live concert, or relax with an evening movie in the theater.
Whether you're looking to socialize, stay active, learn something new, or relax there is something for everyone!

Senior Living Amenities at Bethany Village
Our approach to wellness provides opportunities for our residents to socialize, build relationships and enjoy life. Learn more about the features of our fitness center, Wholeness of Life Center, dining, music therapy program, beauty salon, Village Center, movie theater, and other activities.
Fitness Center
Our 5,000 square foot fitness center includes top-of-the-line exercise equipment and classroom space for fitness instruction. Our classes accommodate a wide range of fitness levels and interests, including:
PACE (People with Arthritis Can Exercise): This chair-based exercise class incorporates simple standing movements and focuses on total body exercise, including range of motion, bodyweight strength training, general conditioning, balance, and proprioceptive movement. Intensity level = Low
Circuit of Life: This fast-paced and fun class incorporates strength training, cardiovascular conditioning, balance, and flexibility. The circuit consists of 10 exercises lasting around 30 seconds for 2 rounds with rest time in between. The great part is you can control how hard you want to work. Intensity Level = Moderate to High
Everyday Strength: In this class, we use resistance bands and bodyweight to focus on strength and power in both the upper and lower body. We also include cardiovascular endurance, balance, and flexibility. This class is an excellent fit between PACE and Circuit of Life. Intensity Level = Moderate to High
Rock Steady Boxing: This exercise program is specialized for those diagnosed with Parkinson's. We combine boxing, strength, cardiovascular, functional, and flexibility training. There are 2 levels of classes depending on the stage of Parkinson's and physical capabilities of the participant. Intensity Level = Low to High
Wii Bowling: Using the Wii gaming system allows residents to work on coordination and general body movement. There is a Wii bowling group that meets regularly to play. Intensity Level = Low
Rise and Shine: This class is chair-based and aims to empower residents who are new to exercise. It's also great for residents who may have medical challenges but still want to remain active. The exercises focus on increasing total body strength, flexibility, balance, cardiovascular endurance, and stability. Intensity Level = Low
Fit Beat: Fit Beat is a seated or standing drumming class led by our resident Music Therapist. We focus on rhythm, coordination, and cardiovascular endurance. This class is perfect for residents who love music and are looking for an alternative to traditional exercise classes. Intensity Level = Low
Chair Yoga: This class is held on Mondays, Wednesdays, and Fridays, and is open to all independent living residents. The chair-based yoga movements work on flexibility, muscle control, balance, endurance, and breathing techniques.
Wholeness of Life Center
The Wholeness of Life Center is the centerpiece of our spiritual and cultural community and is inclusive to all residents and denominations.
We feature beautiful Stephen Canneto art glass in this worship space, along with a new organ and rosewood piano to fill the center with music. We also use the latest technology to enhance the audio and visual experience.
The Wholeness of Life Center is also used for meetings and events when not being used for worship. These events include music recitals, lectures, and entertainment programs.
Dining
Food brings people together. Our menus offer diverse options and accommodations for dietary restrictions.
The dining spaces at Bethany Village allow residents to socialize and form personal relationships from across the table. This includes:
The Fountain Place Restaurant offering a sophisticated setting for fine dining
Plate & Table at Vista Place featuring American home cooking in a casual setting
Crescent Crossing Dining Room features restaurant-style dining for lunch and dinner, steps away from the movie theater and Wholeness of Life Center.
The Bistro an inviting spot with high-end deli specials, salads, morning breakfast, and grab-and-go meal options.
Linden House Family Dining Room gives the option to residents who want to engage in a community setting during their meals.
Courtyard Park and Pavilion Family Dining Room encourages memory support residents to engage and form social relationships to improve their quality of life and ease the stress of memory-related illnesses.
Residents always have the option to dine in their homes if they are looking for privacy and relaxation.
Music Therapy
Bethany Village provides a certified music therapist, offering private sessions and regular music programming in our Assisted Living and Long-Term Care communities. We have employed a full time music therapist over the last 35 years including interns from local, regional, and national colleges and universities.
Music brings people together, sparks fond memories, and gets residents engaged with singing and playing along with instruments.
Salon & Barber Services
Look and feel your best with our on-site salon and barber service. Relax as our salon staff pampers you. Receive a shampoo, cut or color, plus beard trimming for men. Find your style!
Village Center
The Bethany Village Center is the heart of our community. This welcoming space can be used to soak up the sun in the atrium or enjoy a snack at The Bistro. Residents can enjoy each other's company in this cozy living room setting.
The Grand Room in the Village Center is a place where we host dinners, and special events.
Movie Theater
Residents can enjoy a wide variety of movies, from new releases to the classics. Our state-of-the-art theater features an 85-inch, high-definition television with Dolby surround sound.
The movie theater accommodates 13 people with space for wheelchairs. It's the perfect place to be entertained and enjoy the entire movie-going experience—including delicious popcorn!
Activities
Bethany Lutheran Village offers activities and events that provide opportunities to meet people, stay active, and learn new things. We believe staying active and engaged improves your quality of life, memory, and mood.
Make new friends by joining one of our events, outings, clubs or attending lectures by college professors and experts on a wide variety of topics.
Lifestyle Brochure

Embrace the good life. Enjoy a unique lifestyle. The good life means something different to everyone. That's why the Bethany Village lifestyle is uniquely yours. Shape your perfect day, every day.
Download our Lifestyle brochure.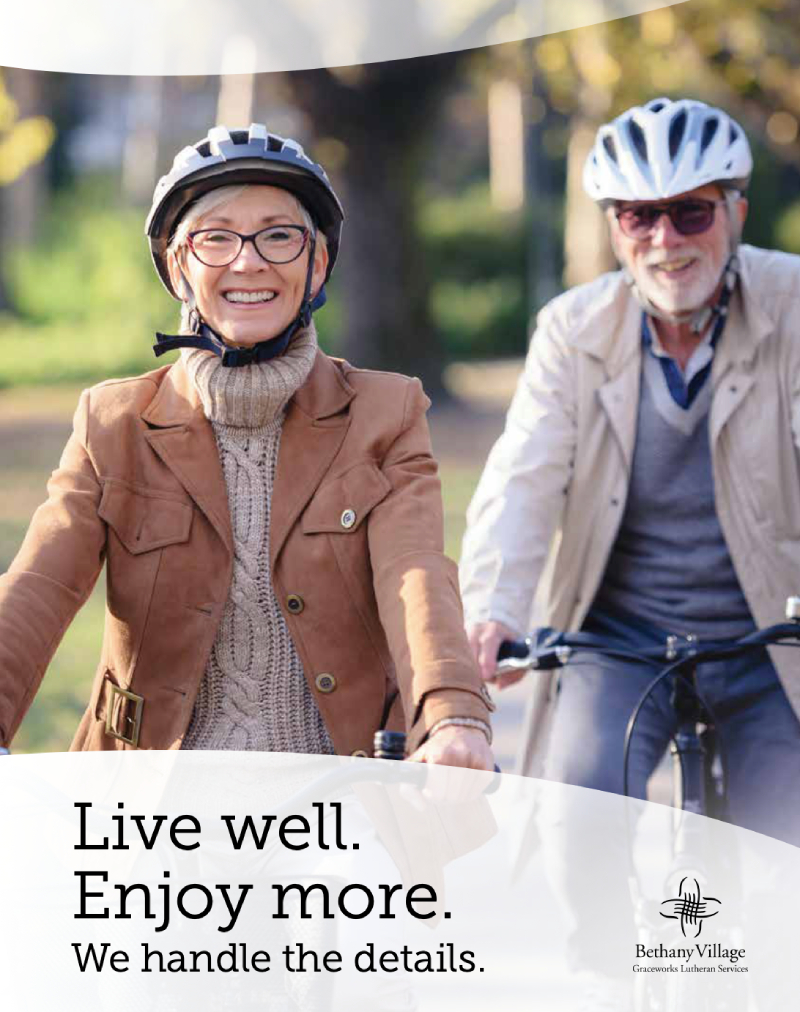 LifeShare Mobile App
Residents and their family members are able to access our packed monthly activity calendars from remote locations. By using the LifeShare Mobile App, you can view Life Enrichment calendars specific to each location on campus.
View the app store on your mobile device
Click the app store icon
This will open up and you can search lifeshare mobile app
Download the app
Log in with the appropriate pin number provided below
| Community | Community Acess PIN |
| --- | --- |
| | |
| BRC | brc |
| Independent Living | bethanyvillage |
| Blossom Park | blossompark |
| Cascade | cascade |
| Cherry Park | cherrypark |
| Crescent Crossing | crescentcrossing |
| Gardenview | gardenview |
| Pavilion (Ground) | pavilion1 |
| Pavilion (First Floor) | pavilion2 |
| Woodview | woodview |

Live Life to the Fullest
Enjoy all that life has to offer. Each area of our campus offers activities, clubs, and programming to choose from that caters to the interests of residents. Bethany Village offers a wealth of opportunities to interact, learn, meet new people, and focus on what you love.
We are happy to answer any questions you have or show you around our campus.
After having lived in our previous home and raising our family for 50 years, we just became residents at Bethany a few months ago. From the very beginning of our search to downsize, and for so many positive reasons, we chose to move to Bethany. In addition, even during the year of COVID when things were not normal, everyone with whom we came in contact, could not have been more kind or more helpful. We have been welcomed and made new friends from day one. Now things are beginning to open back up, and we are excited to participate in the many activities available to us here.
Gary and Sondra
I cannot imagine a place that is superior in providing the care our Mom is receiving. Our concerns are listened to and addressed. The communication with our family is stellar, the staff is compassionate and welcoming. There are activities which address her spiritual being along with her social/emotional and memory needs.
Cynthia E.
We are so blessed to have our mom at Bethany Village. She loves the staff, the food, and activities; couldn't ask for a better place for her to live. Thank you Bethany Village staff and the entire team.
Janice M.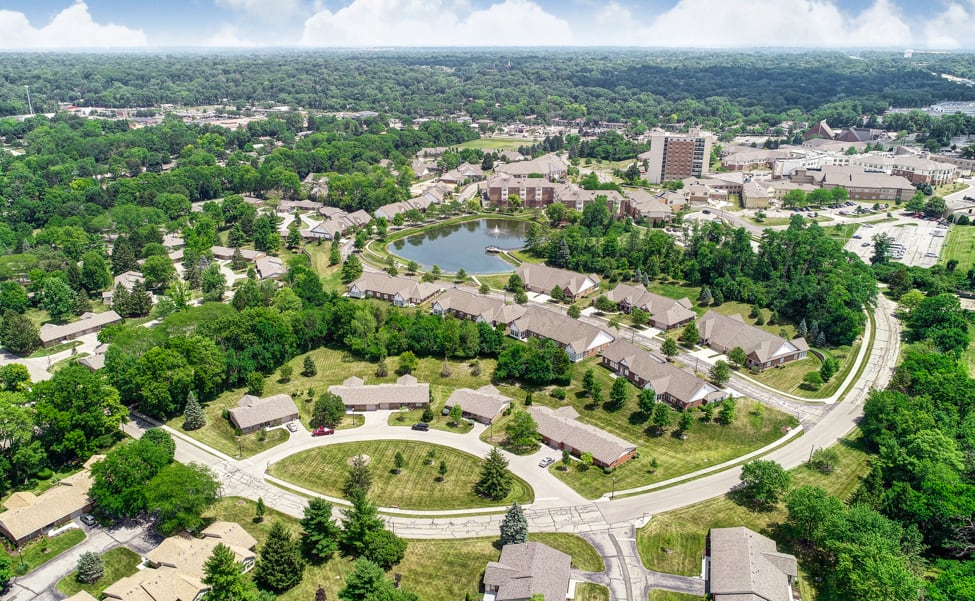 Our Address
6443 Far Hills Avenue

Dayton

,

OH

45459
Our Hours
Our campus is open every day of the year, all day long.
Sales Office Hours
Monday

:

8:00 AM

–

5:00 PM

Tuesday

:

8:00 AM

–

5:00 PM

Wednesday

:

8:00 AM

–

5:00 PM

Thursday

:

8:00 AM

–

5:00 PM

Friday

:

8:00 AM

–

5:00 PM

Saturday

:

Closed

Sunday

:

Closed