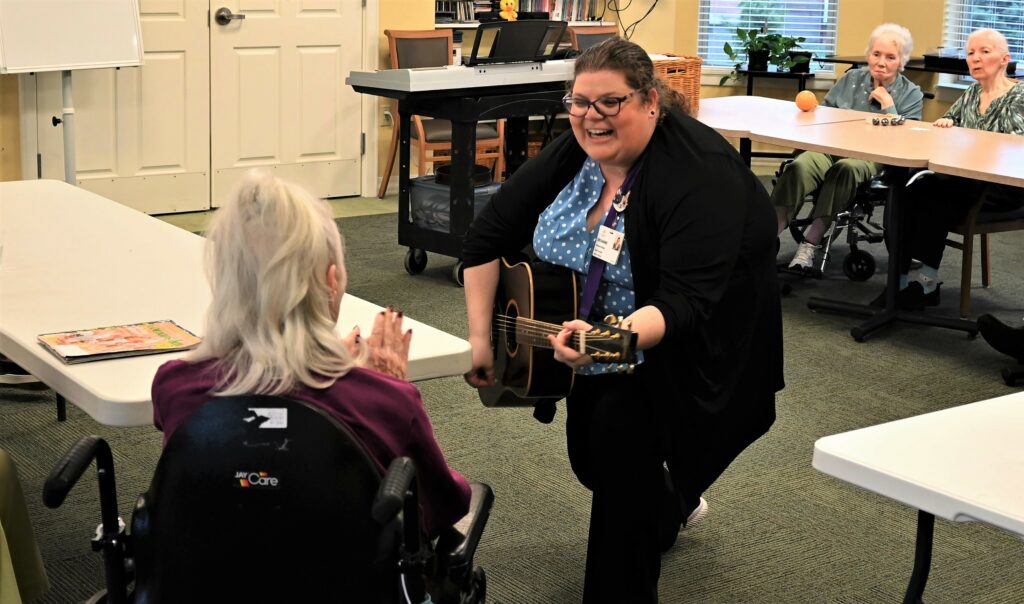 We're all probably familiar with how music can affect our mood, making us feel happy, relaxed or more energized, and even remind us of a loved one, depending on the tune. When it comes to health care settings, specialists, called music therapists, use this healing power of music to help those in their care.
What is music therapy?
Music therapy is a clinical, evidence-based practice that uses music as therapy to improve one's mental, emotional and physical health. This practice uses the power of music to stimulate, engage, comfort and provide meaningful experiences for individuals and groups.
This therapy is person-centric—meaning residents play an active and central part in their care—and supports overall quality of life. For older adults in continuing care retirement communities like Bethany Village, music therapy can help improve physical, psychological, cognitive and social well-being. Music therapists engage in the full spectrum of the treatment process, including planning, ongoing evaluation and follow-up.
At Bethany Village, music therapists shape musical experiences for residents, including:
Discussing song lyrics
Improvisation
Playing instruments
Singing
Songwriting
Therapists may also use receptive music listening, which involves playing music and inviting listeners to respond to the experience through words, silence, dance or other actions.
Who performs music therapy?
Board-certified music therapists, certified with MT-BC credentials from the Certification Board for Music Therapists, support patients and residents with integrative, holistic practices that help improve outcomes for patients.
These therapists receive extensive training in music, psychology and medicine to better engage residents.
Additionally, Bethany Village provides an enriching learning environment for music therapy students from across the country. These students come to Bethany Village for both short-term courses and long-term internships. Dozens of students have completed their internships since the program began at Bethany Village in 1985.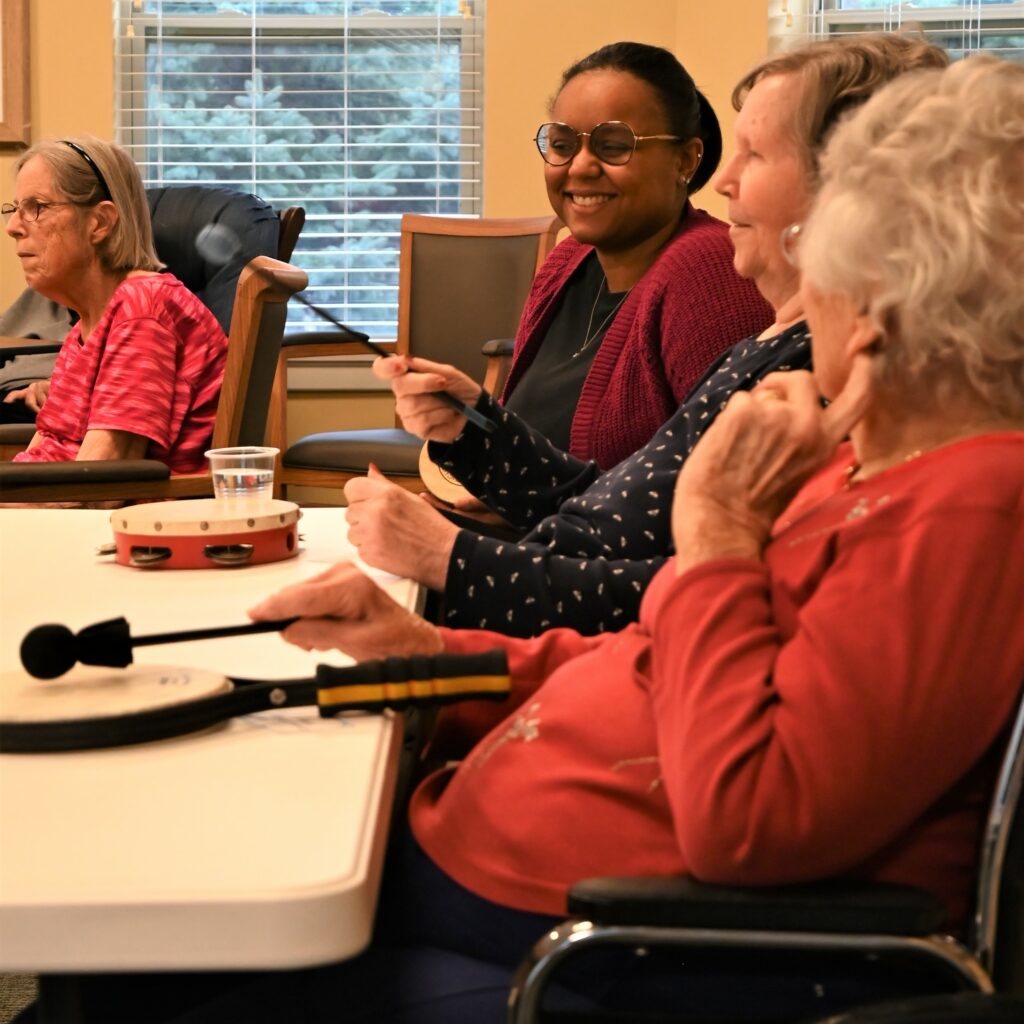 Benefits of music therapy
Music therapy has proven benefits for patients in senior living and memory care settings, including:
Improved memory recall
More positive changes in mood and emotional states
Increased autonomy and sense of control
Increased awareness of and orientation to self and environment
Reduced anxiety and stress
Relaxation
Drug-free management of pain and discomfort
Increased mobility and physical stimulation
Self-expression and creativity
Music therapy also elevates the impact of physical and occupational therapy by promoting rhythmic movement and vocal fluency. And it promotes meaningful interpersonal interaction with spouses, families, caregivers and others who can share in these creative music experiences.
Why Bethany Village?
As one of the few senior living communities to offer a full-time music therapy program, Bethany Village is committed to providing music therapy services for residents—employing a music therapist since the program started in the early 1980s. Music therapy is one of many therapy services Bethany Village offers to better care for residents. As a nationally accredited continuing care retirement community, Bethany Village is devoted to faithfully caring for the needs of the more than 700 older adults living on our campus.