When a loved one can no longer safely live alone, deciding to transition them to assisted living can be overwhelming and emotional. And while that can seem like one hurdle down, choosing a senior living community for your loved ones is another significant decision that requires careful consideration.
When embarking on a tour of potential assisted living communities, it's essential to gather as much information as possible and ask questions about security, care, support, meals, pricing, and services to ensure the well-being and happiness of a loved one.
What is Assisted Living?
Assisted living supports loved ones who need help with everyday challenges while ensuring they maintain as much independence as possible. Services and amenities are designed to provide high-quality care while promoting health, wellness, and social engagement.
Questions to Ask When Touring an Assisted Living Community
If this is your first time touring an assisted living community for a loved one, you may not know what's pertinent to ask. Through a list of thoughtful questions during your tour, you can make an informed choice and find the perfect home for a loved one that meets their needs and comfort.
Safety & Security
Safety is paramount in any senior living community that offers assisted living. Here are some specific questions:
How do you address emergencies, including evacuation procedures and response to medical crises?
What security measures do you take, such as surveillance cameras, emergency response systems, and secure entry points?
Caregiver & Staff Training
Hiring and training can indicate how much they invest in staff and provide insight into the quality of care your loved one will receive. Staff turnover helps gauge the stability of the caregiving team and consistency in establishing relationships between staff and residents.
Specific questions about this can include:
How are caregiving members trained?
What is your hiring process?
Do you have ongoing professional development opportunities?
What is the staff turnover rate?
How do you handle medication management?
Level of Care
Some senior living communities offer a range of care options to accommodate changing needs. Access to comprehensive care within the same community can provide peace of mind as your loved one's needs evolve. Questions on care can include:
Do you offer different levels of care?
How do you assess and adjust care plans based on individual requirements?
What is the staff-to-resident ratio during various times of the day?
Is there a dedicated nurse on site 24/7?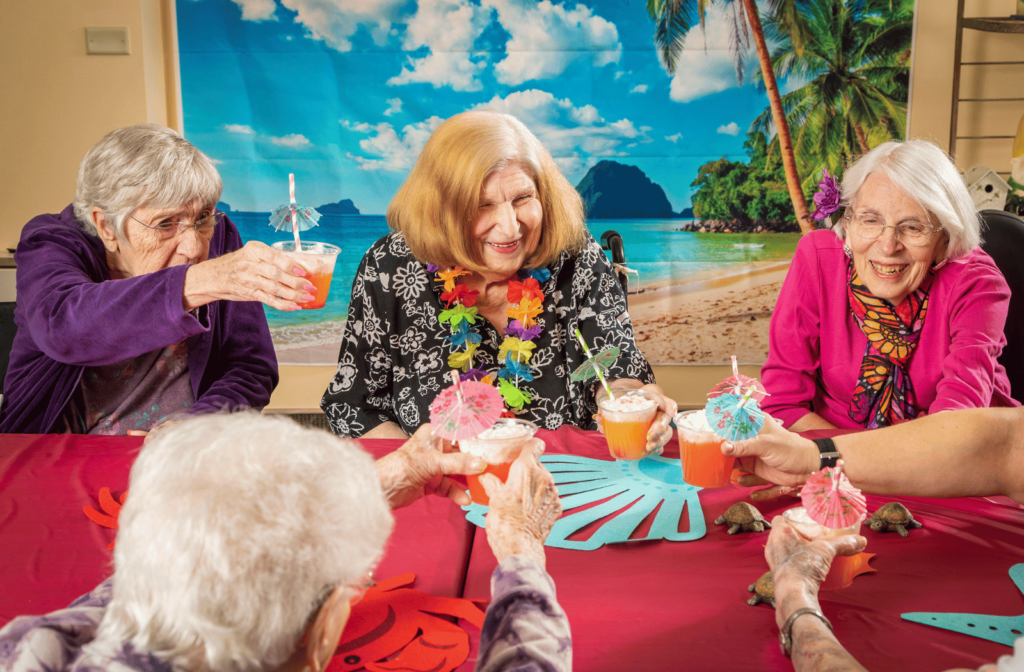 Social Engagement & Activities
Maintaining an active social life is crucial for the well-being of seniors. Understanding the community's approach to fostering connections and promoting an enriching lifestyle helps you to see whether it aligns with your loved one's interests and preferences.
Examples may include game nights, live concerts, movies, off-site events, and shopping trips. Questions to ask are:
How do you promote social engagement in your community?
What social events and recreational activities do you offer?
Questions on Dining
Nutrition plays a vital role in overall health, so it's important to understand the dining options within the assisted living community. Visiting the dining area during mealtime on your tour can give you a glimpse into the overall dining experience. Questions about meals can include:
What dining plans are available?
How many meals or snacks do you provide daily?
Can dietary needs or restrictions be accommodated?
Can residents have the option to dine with others or in their rooms?
Accommodations
Living arrangements should accommodate loved ones' needs and preferences to make them feel at home, such as considering comfort and convenience. Questions about living spaces can include:
What floor plans are available?
Do you have apartments for singles and couples?
Do rooms come with kitchens?
Are furnishings included?
Can we personalize a loved one's room?
Do bathrooms have accessible showers and assist bars?
Do apartments have emergency call systems?
Coordination & Communication
Understanding the policies around how the community coordinates and communicates with family and healthcare providers can say a lot about relationships and interactions between them. Questions to ask can include:
How do you involve families in the care of their loved ones?
What are your policies regarding family visits, participation in care planning, and regular updates on a loved one's overall health and well-being?
What communication channels are available for family members to reach out with questions or concerns?
Do you provide on-site therapies or access to healthcare services?
Assisted Living in Metro Dayton
Selecting an assisted living community is a big decision, and asking the right questions during a tour is vital in making an informed choice. With these in mind, you will be better equipped to choose the perfect home for your loved one. Start your loved one's journey in assisted living by booking a tour with Bethany Village and see firsthand how they can receive the compassionate care and support they deserve in their new home.