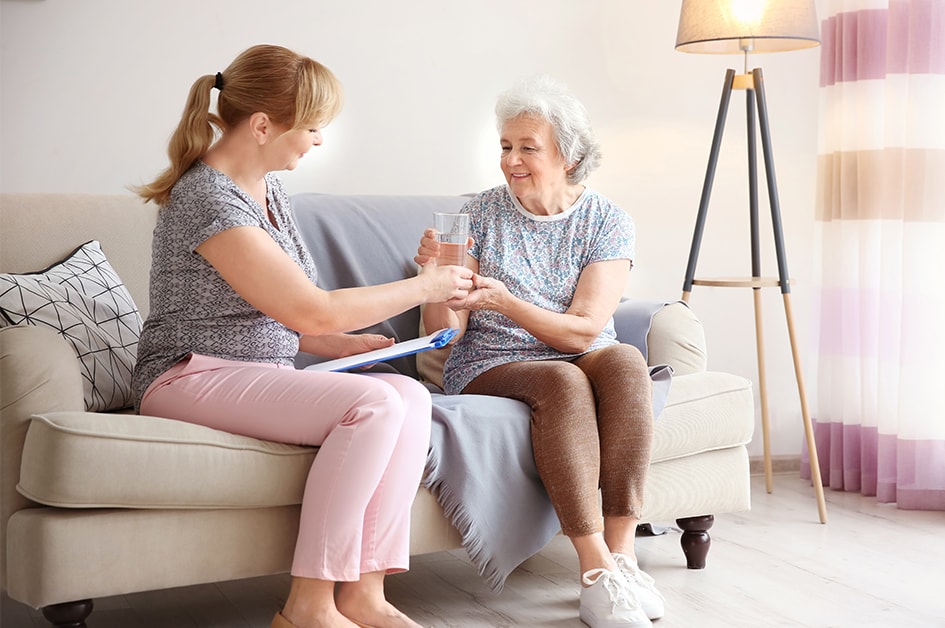 It's a common question: What's the difference between independent living and assisted living? While these two types of senior living may sound similar, there are some key differences to note. If you're beginning to search for the right senior living option for yourself or a loved one, understanding the basics of independent and assisted living will help you know what to expect.
What is independent living?
Independent living is ideal for active, independent older adults who want to be surrounded by individuals their age. This type of senior living is focused on easing the daily responsibilities of homeownership for those who don't yet need medical care or support with daily activities. Residents live on their own in private homes or apartments, where they have the opportunity to enjoy a more relaxing, laidback retirement lifestyle. Because landscaping and maintenance are provided by the independent living community, residents can spend more time on the activities they love without worrying about the hassle of chores like mowing the lawn, shoveling snow, or home repairs.
Independent living offers:
Convenient on-campus amenities. From fitness centers to on-campus salons, spacious gathering spaces, and beautiful walking trails, independent living communities are designed to maximize comfort and convenience for residents.
Fun community activities. Independent living communities plan a range of engaging on-campus activities, including social hours, continuing education classes, and community celebrations.
Additional services to make life easier. Independent living residents may also choose to take advantage of additional services, such as on-campus dining, light housekeeping and linen services, and transportation to appointments and local shopping centers.
What is assisted living?
Assisted living, like independent living, offers older adults a safe, convenient place to call home where they're surrounded by their peers. But the reality is that 1 in 5 U.S. adults age 85+ say they either need or currently receive help with activities of daily living (ADLs). Assisted living residents receive assistance with daily activities when and where they need it, allowing them to strike the right balance of independence and peace of mind. It's an ideal option for older adults who can manage with some assistance but do not need full-time skilled nursing care.
Assisted living offers:
Personalized care and support. In assisted living, residents receive assistance with activities of daily living (ADLs) according to their individual needs. Examples of ADLs include medication management, personal hygiene and grooming, dressing, eating, transferring, and mobility.
Help available 24 hours a day. With staff and licensed nurses available 24/7 to help with safety, care, and support as needed, assisted living provides reassurance for both residents and their families.
Social and wellness activities. In addition to receiving daily care and support, assisted living residents are free to spend their days as they choose. They participate in hobbies, clubs, and fitness classes, attend community events, and enjoy delicious, nutritious dining with their fellow residents.
Some assisted living communities also offer dedicated memory support areas designed for residents living with Alzheimer's disease or dementia. Assisted living memory care communities offer a range of supportive and stimulating activities and programs, including music, art, and interactive therapies, movement-based programs, and conversation-based activities to encourage communication and connection.
What is the right choice for you or your loved one?
While they have key differences, both independent living and assisted living can promote independence, relieve stress, and help older adults lead happier, healthier lives.
For peace of mind, many older adults and their families choose a continuing care retirement community (CCRC), which offers the full continuum of senior care on a single campus, from independent living to assisted living, skilled nursing care, memory support, and short-term rehab. In a CCRC, like Bethany Village, residents are able to seamlessly move to the next level of care as their needs change, without ever leaving the community they know and love.
Is it the right time for senior living?
Learn more about senior living and find out which options are the best fit for you or a loved one with this quick 4-5 minute survey.
When you're ready to learn more about life at Bethany Village, please contact us to request more information. We're always here to answer any questions you may have about the differences between independent living and assisted living.