You may be surprised by the number of housing and lifestyle options available to older adults today. However, this doesn't always make it easier to decide the type of living situation that's right for you or a loved one.
There are many factors to consider when choosing where to settle and enjoy your golden years. Two popular options are independent living and 55+ communities.
But how do they differ? It's important to know in order to make the best decision that suits your lifestyle and needs. While they both provide many benefits, independent living offers multiple living and care options that adjust to your needs should they change.
Let's take a closer look at the differences between independent living and 55+ communities to avoid confusion and help you make an informed decision.
What Is Independent Living?
Independent living is a lifestyle option for older adults who can—and want to—live independently but still be part of a larger community. Residents can enjoy a more carefree life, focusing on what they love to do without worrying about daily stressors like lawn care or housekeeping. They can continue to lead an active and engaging lifestyle and let the community take care of all the maintenance and chores.
What Is a 55+ Community?
A 55+ community is intended for those aged 55 and older. These communities are low-maintenance and can differ from one another in the services and amenities they offer. For example, they may have a clubhouse and social events, may include groundskeeping in the monthly fee, and the community may be managed by a homeowners association.
55+ communities vary predominantly in what they offer, while independent living communities are designed to improve the enrichment and well-being of their residents.
A Comparison of Services
55+ communities provide the convenience of maintenance services of the building, apartment, or grounds, such as snow removal, yard work, or grass care. However, they don't provide housekeeping, meals, or laundry services.
Independent living communities offer a stress-free and maintenance-free lifestyle with staff members ready to assist community members. At Bethany Village, we offer:
Transportation services
Security & safety
Maintenance services
Technology support
Garage parking
Wellness center
Access to all of our restaurants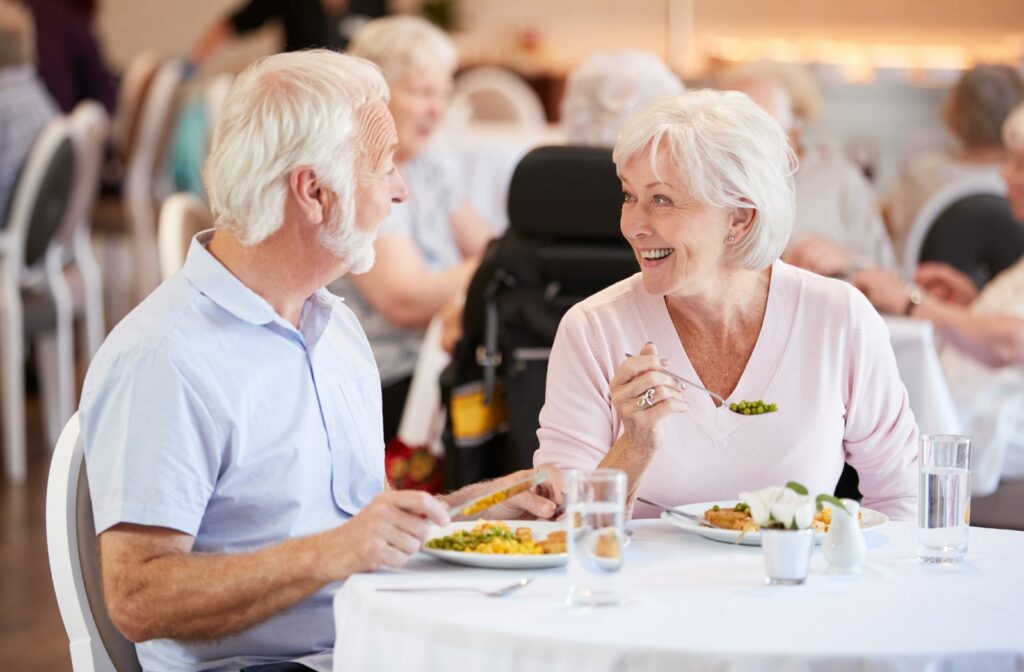 A Comparison of Amenities
In 55+ communities, amenities can vary in availability and quality. These communities are more like niche communities where residents can enjoy shared interests with like-minded members and socialize based on planned activities.
Independent living offers a packed calendar of engaging activities and various amenities. Residents can join a club, take an exercise class, learn something new by attending a seminar, or relax in the community's shared spaces.
Common amenities at an independent living community include:
Fitness center
On-site restaurant options
Beauty salon & barbershop
Community center gathering space
Movie theater
Library
Outdoor walking path
Gift store
A Comparison of Housing
55+ communities can include single-family homes, condo-style buildings, townhomes, or apartments. In individual communities, residents can either own or rent their property.
Independent living communities usually feature villas, cottages, or apartments. Bethany Village offers each of these housing options to our customers. Housing options are based on financial qualifications—we do this to help create a stable community with long term residents.
A Comparison of Levels of Care
While 55+ communities offer some amenities that keep residents active and engaged, they lack other levels of care for aging adults.
Independent living puts you in control of the next phase of your life by offering various levels of care. Independent living communities, like Bethany Village, can also provide assisted living and memory support if your needs change as you grow older. This flexibility of care can support aging in place.
A Comparison of Cost
The cost of living in a 55+ community depends on whether you buy your property or rent it. The costs can be high if you need to pay for the mortgage, taxes, utilities, transportation, and meals, as well as:
Property type
Location
Square footage
Number of bedrooms
Services
Amenities
Homeowners association fee (HOA)
Independent living usually includes a one-time entrance fee and monthly service fees. These fees include maintenance, cable, telephone, and utilities, among others.
High-quality care doesn't have to come at a cost. Use our cost comparison worksheet to help discover the best lifestyle option that suits your budget.
Great Value in Independent Living at Bethany Village
It's important to look at the differences in living options when considering a move to ensure you pick one that suits you best. At Bethany Village, we create an experience curated just for you that's adjustable to your changing needs. If you're interested in one of our lifestyle options, please contact us or schedule a visit to explore our community in person.