6 Practical Tips to Assist Your Aging Parents with Downsizing & Decluttering
As your parents age, sometimes they can require some extra care or assistance. Your help can take many forms, from helping and supporting them in downsizing and transitioning into a new community to assisting them with getting organized and decluttering their space.
Let's explore what helping older adults can look like and 6 practical tips to help your aging parents with downsizing and decluttering before moving into a new stage of life.
Caring for Older Adults
Your parents have some options to consider and may rely on your help to decide. When that time comes, it's always a good idea to present a few options to them:
Aging in their own homes, often with support, can be a stress-free and familiar option.
Your parents may want to stay close to you and choose to move in with you.
A senior living community may also be a great option to open a new chapter in life.
If your parents are healthy and active, they can also explore living in a senior living community. This lifestyle can be a way for them to eliminate the responsibilities and chores that come with owning a home—giving them the time to focus on the things and activities they enjoy while engaging with a wider social circle.
Not everyone takes on a caregiver role. If your parents decide to move to a senior living community, you can provide your support. Your parents' health can be ever-changing, so a CCRC (continuing care retirement community) is a great option.
A CCRC is a long-range plan to take care of your parents' changing health needs as they age. Through a CCRC plan, the ability to age in place is an attractive option to maintain a familiar environment and is worth exploring with your parents.
Any sort of living transition can be an adjustment for both you and your parents. It's important to give both sides time to adjust and reach a level of comfort with this new dynamic. Not everyone has health issues—this decision to downsize and declutter can represent a plan for the future.
It's important to know what types of care they may require before helping your aging parents downsize and declutter to move on to a new stage of life or a new community.
Personal Care
They'll be going through a role reversal as they're used to taking care of you.
Your parents may need help with tasks like:
Bathing
Dressing
Grooming
Other personal care like toilet care
It can be challenging for your parents to accept any help, so remaining calm and assisting them through the process when needed is essential.
Household Help
Household chores like cleaning, laundry, and yard work are areas where your parents may need help. Handling these day-to-day chores can take a great deal of stress off of them and result in a more relaxing environment.
Going grocery shopping for them and helping with preparing healthy meals can give them a great socializing boost they may need.
Emotional Support
Sometimes support is just simply spending time with your parents. Aging can get lonely, especially if you have a single parent who lives alone. Practicing regular visits with them and offering your time is a great way to provide support.
Being calm and patient with your patients can do wonders for their mental health.
Health Care
With aging may come some health issues that you can assist your parents with. You can ensure they're keeping up with medication and have transportation to all their doctor's appointments.
Keeping track of your parent's medications can help them, especially if they're forgetful or suffer from any cognitive problems.
Suppose your parent's needs outweigh your ability to care for them. In that case, it's a good idea to look into home health care services that can assist them.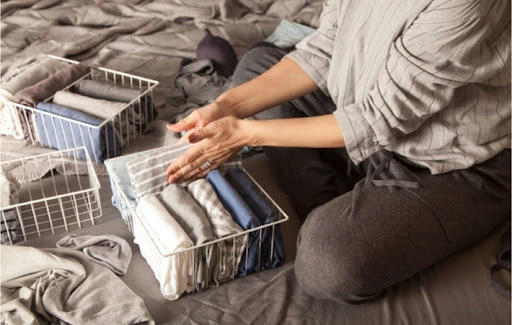 6 Practical Tips When Helping Your Parents Downsize & Declutter Their Home
When the time comes to help your parents downsize and declutter and move on to a new community, it's important to get an early start.
Start Planning the Move Early
Sitting down with your parents and planning the move can make a huge difference. It is essential to give them time to prepare and come to terms with moving on.
Moving into a new community isn't always easy, and your support and understanding can mean the world to them.
Keep Things Positive
Stress can be inevitable during any sort of deep clean that precedes a move. Patience is key in this case, and keeping things light and positive around your parents can create a welcoming environment.
Look through old photo albums and talk about items with attached memories to keep them motivated and, most of all, enjoy each other's company—it can be a time of bonding as much as getting some cleaning done.
It can be an emotional ride—a big life transition can be tough on your parents.
Ask Questions
Your parents may be dreading the idea of misplacing anything or forgetting to take something with them. A great way to stay involved in the process is by reminding them of any items you may think they'll miss.
Keep track of any precious items that can get lost in the clutter and ask whether they want to keep certain things and get rid of others. Leave the decisions up to them!
Have a Plan for Furniture and Belongings
When downsizing and moving to a new community, having a plan for the furniture and belongings your parents may leave behind is essential.
A senior living community will consult will families on appropriately sized furniture. Determining what to do with the leftover furniture can be left up to you. If your parents want to hang on to some furniture, you can help them determine the best items to keep.
Give it Time
Your parents won't be convinced right away to move on—it can take weeks and months of convincing, even if it's the best option for them.
Downsizing should never be a rushed decision, and your patience will be essential. Your parents are still independent and need time to come to terms with a decision.
Join Your Parents on a Tour of Their New Community
When you and your parents find the right community for them and they're warming up to the idea of downsizing—accompany them on a tour of their possible new home.
Your presence can help put them at ease, and having a positive attitude can warm them up to the possible move.
Helping Your Parents
The role reversal that your parents will undergo when downsizing and decluttering for a move can be stressful. It can fall on you to provide them with a pillar of support and positivity to help them come to terms with a new stage of life.Get in touch with a Marketing Counselor at Bethany Village who can assist you with this process and help you understand how to help your parents.