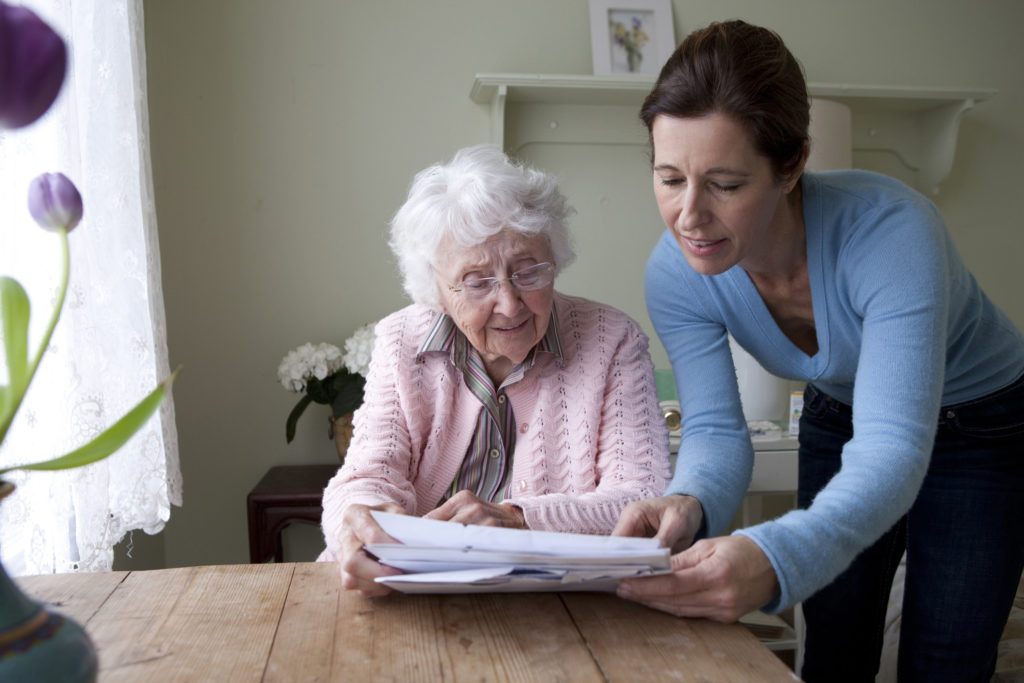 When your aging parent begins to need assistance with daily tasks, it's natural to fall into the role of caregiver. After all, you want to be a part of your loved one's life and help them in any way you can. However, becoming a full-time family caregiver is a decision that should not be taken lightly.
Before taking on this new role, ask yourself the following questions to ensure you're making the right choice for you and your loved one:
#1: Am I capable of providing the care my loved one needs?
Caregiving is undoubtedly rewarding, but it can also be time-consuming and challenging. Before you become a caregiver, it's important to understand your parent's current care needs and how those needs may change over time.
In the beginning, your caregiving tasks may involve things like driving your parent to errands and appointments, doing their grocery shopping, cleaning their home, and preparing meals. These tasks can be manageable even while juggling a job and family responsibilities. But over time, you may need to seek professional help to ensure your loved one is getting the support they need.
If your parent is diagnosed with a medical condition, talking with their doctor can give you a better idea of what to expect in the future. For example, caring for a parent with dementia or Alzheimer's is a big undertaking, and it can be difficult to do alone as the disease progresses.
#2: How will caregiving affect my physical health?
Ironically, the demands of providing care for a loved one can lead to increased health care needs for caregivers. Studies indicate that caregivers experience increased rates of physical ailments such as headaches, insomnia, body aches, and muscle pain, as well as a lower immune response and higher levels of obesity.
Before becoming a caregiver for your parent, consider how you'll take care of yourself, too. This means keeping up with your scheduled health exams and appointments, as well as making time for self-care and breaks.
#3: How will caregiving affect my mental well-being?
In addition to physical health, caregiving can also take a heavy toll on one's mental and emotional wellness. It's common to feel stress, anxiety, isolation, sadness, anger, frustration, and guilt as a caregiver. But if left unchecked for too long, these negative feelings may lead to a serious condition known as caregiver burnout. Be honest with yourself and consider whether you're up for the mental, physical, and emotional challenges of caregiving.
If you do decide to become a caregiver, remember that it's okay to ask for help and take breaks when you need to. Taking care of yourself is smart, not selfish. Just as you can't pour from an empty cup, you cannot provide adequate care to someone else unless your needs are met, too.
#4: Am I willing to become a full-time caregiver?
As your parent grows older, they may require a higher level of support to remain safe and healthy. At this point, some caregivers decide to move their loved one into their home where they can provide full-time care. Before this time comes, carefully consider how transitioning to full-time caregiving will impact you, your parent, and your immediate family. Navigating the role reversal of caring for a parent can be difficult and may create tension in your household.
#5: What are my other options?
Being a caregiver — whether part-time or full-time — is not for everyone. There's no shame in admitting that caregiving isn't the best solution for you or your loved one and seeking outside help. Early on, you might consider the benefits of at-home care, which allows your parent or loved one to receive assistance and support from professional caregivers in the comfort of their own home.
Another option is assisted living, which ensures your loved one receives the care they need in a supportive community environment. In many cases, transitioning to assisted living helps caregivers minimize stress, ease tension, and restore positive family relationships. It can be a relief for everyone when grown children are able to return to the role of son or daughter, instead of being a full-time caregiver for their parent.
If you're just beginning to explore senior care options, respite care is a great way to "test the waters" and see if assisted living is right for your family. A short-term respite care stay in an assisted living community gives seniors access to the same daily care, activities, and amenities as current residents while giving caregivers a break to travel or relax.
If you'd like more information about home healthcare, respite care, or the assisted living options at Bethany Village, please contact us today. We would be delighted to meet your family and answer your questions.