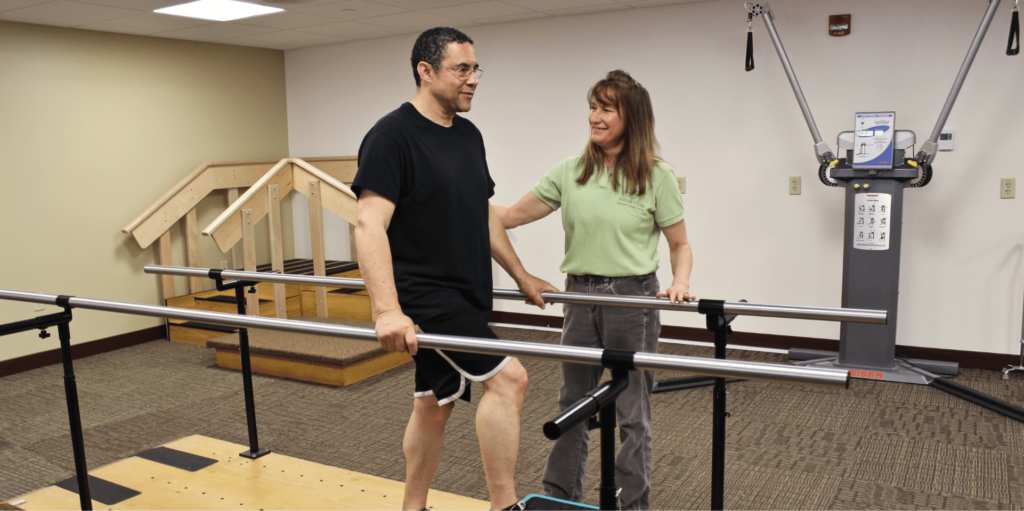 After spending time in the hospital, whether for an illness, accident, or planned elective surgery, seniors are often faced with the decision to either recover in a short-term rehabilitation facility or at home.
While it's natural to want to get back to a familiar setting as soon as possible following a hospital stay, there are significant benefits to choosing an inpatient senior rehab center instead of returning home. In many cases, healthcare providers will recommend senior patients arrange a short-term rehab stay and home healthcare services to promote a safer, faster, and successful recovery.
What is short-term senior rehab?
Short-term senior rehabilitation, also known as post-acute rehab, offers seniors round-the-clock care and therapies as they recover after a hospitalization due to a fall, joint replacement or other surgery, or illness. Seniors will typically stay in a short-term rehab facility for 21 days or less depending on their care plan, allowing them to recover in a supportive, healing environment.
Some senior rehabilitation facilities, like the Bethany Rehabilitation Center, are part of continuing-care retirement communities (CCRCs) and provide additional services such as medication management, nutrition and dietary guidance, pastoral care, and life enrichment activities.
How can short-term rehab care promote faster recovery?
Short-term rehabilitation offers a number of unique advantages for seniors, helping them regain strength and confidence as they transition from hospital to home. Here's a look at some of the ways short-term rehab promotes a smoother recovery:
24/7 personalized care and support
In a short-term rehabilitation center, an interdisciplinary team of nurses, therapists, social workers, and physicians work together to create a coordinated treatment plan for each patient. Depending on an individual's needs, this may include wound care or IV treatment, medication management, and therapy treatments such as physical therapy, occupational therapy, or speech therapy.
Because short-term rehab patients are always surrounded by caring professionals, the recovery process is comprehensive and consistent. There's no need for patients or their families to worry about arranging transportation or remembering to do therapy exercises at home — instead, they can relax and focus on getting better. The 24/7 care provided in short-term senior rehab also means that extra help is always close by in case of an emergency or health setback. In this way, inpatient rehab helps seniors speed up their path to recovery while providing priceless peace of mind.
Comfortable, Peaceful Setting
Unlike the cold and clinical nature of a hospital environment, short-term senior rehab facilities are designed to be warm and inviting. For example, the Bethany Rehabilitation Center offers private rooms and bathrooms, beautiful outdoor spaces and walkways, delicious dining options, a beauty salon, and enriching activities to provide seniors with maximum comfort and convenience. With everything in one place, short-term rehab patients are able to focus on recovering, healing, and resting.
Emotional support and encouragement
Rehabilitation is not just physical; it's a mental and emotional experience, too. Every patient has different needs and challenges to overcome, and it's normal to feel frustrated, discouraged, tired, angry, or upset during the rehab process. Receiving daily support and encouragement from a caring and compassionate rehabilitation team can make all the difference in helping seniors stay motivated and continue their progress.
Plan Ahead for Short-Term Senior Rehab — and Beyond
Recovery is a long journey. Even after returning from a short-term rehab stay, it's often necessary for seniors to continue receiving therapy treatments, skilled nursing care, or personal assistance at home to fully recover. In this stage of their rehabilitation, seeking help from a home healthcare provider can enhance a senior's daily life, improve their independence and safety at home, and prevent return visits to the hospital.
In the case of elective surgery, such as a joint replacement, doctors often recommend seniors and their families have a recovery plan in advance. It's important to remember that not every short-term senior rehab facility or home healthcare provider is alike, and patients have a choice in where they'd like to receive care. It's well worth taking the time to research, tour, and compare the options to ensure you select a rehab center and home healthcare agency that provides the amenities and services you want and need.
If you're considering senior rehabilitation for yourself or an older loved one, we invite you to learn more about Bethany Village's state-of-the-art on-campus rehabilitation center, as well as our at-home healthcare services offering Bethany Village care in the comfort of home. We're always happy to answer your questions and help your family make an informed decision.