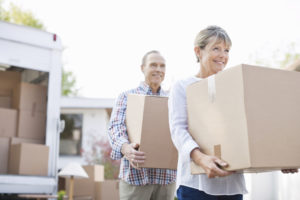 Spring is in the air, and "for sale" signs are popping up on lawns all over the country. If you are thinking about making the move to a retirement community like Bethany Village, now is the time to do some planning. The more you know before you start visiting prospective communities, the smoother your decision-making process will be. Here are a few tips:
1. Contact your Area Agency on Aging to find retirement living options in and near your locale. If you are uncertain about the different types of housing available – for example, independent vs. assisted living – check for definitions.
2. If you have access to a computer, visit some websites associated with retirement communities in your area. Look for the kinds of housing available, amenities and services. Some websites will offer a virtual tour of housing and grounds. This step will show you what is possible in retirement living; you can decide what appeals to you.
3. Make a list of lifestyle priorities. How much living space do you want? What kind of home appeals to you – a high-rise condo, townhouse, free-standing house? What recreational services and amenities are important to you? Will you have a pet(s)? Do you want a full continuum of care available? Think about what you don't like about where you live now. Can you change any of those things when you move?
4. Think about your financial commitment. For example, do you want to purchase or rent? Retirement communities have professionals on staff who can walk you through your options, but it's a good idea to know your budget before you start visiting places.
5. Call ahead to make an appointment. Prepare a short list of questions so you can easily eliminate places that don't meet your basic requirements.
It's important to remember that your search for a retirement community is just that – yours. While you'll want to consult with your family and close friends, the ultimate decision rests with you. When you visit, invite a trusted advisor along, but avoid bringing lots of friends and family. You'll want to concentrate on your needs – not theirs.
Expect the community representative who is showing you around to give you the time you need (usually 60–90 minutes), focus on your needs and answer your questions straightforwardly. Choosing a retirement community is choosing a lifestyle. The representatives you meet with should be as interested to in your happiness, comfort and safety as you are.
Are you planning to visit retirement communities this spring? Do you have other questions?


//