Buying a gift for someone can be a difficult task. If you have a loved one living in an assisted living community, it can be even more challenging to know what they would value, appreciate, or need.
If your loved one has a celebration around the corner, you might be stressed thinking about what to get them. But don't worry. We're here to help you find the perfect gift, whether for a birthday, holiday, or just because you've been thinking about them!
With all the options available, it can be tricky to know where to start, but our senior living experts at Bethany Village have an in-depth knowledge of our residents' ever-evolving needs. Keep reading to learn more about the top gifts you can get your loved one living in assisted living.
Show Your Loved One How Much You Care
Knowing that someone is thinking about you can make a world of difference. For older adults, this is especially true. Spending time with your loved one, bringing them a gift, or even giving them a quick phone call lets them know they're on your mind.
The benefits of showing your loved you care about them may seem obvious, but it truly makes such a difference in their lives. It can help reduce feelings of loneliness and make them invigorated and energized. Plus, there's no doubt it'll give them something to tell all their friends about in their senior living community.
Spreading love makes the world a brighter place. So don't forget to show your loved one you care!
Great Gift Ideas for Seniors
Having trouble deciding on a gift for the senior in your life? Here are some great ideas!
Gift Them Something Personal
Sometimes, showing the person you love that you care about them doesn't have to cost money. A painting you've made, a card with photos and a nice message, a scrapbook, cooking their favorite meal, or a homemade video can go a long way.
Musical Gifts
Does your loved one enjoy music? Maybe they listen to music to relax, or maybe they listen to certain artists to reminisce. Either way, sending a favorite record, curating a personal playlist, or signing them up for a music subscription is a great way to show them you care.
Useful Gifts
It's always a good idea to get seniors something they'll use in everyday life. Not only does this ensure your gift will be helpful, but it'll also remind them of you every time they use it. Some useful gift ideas include:
Customized calendars
Slippers or a robe
A big-button TV remote
Digital photo frame
Activities & Games
Puzzles, books, or board games are favorites in our senior living community. Activities are an excellent way to stay entertained and keep the mind sharp. They're also something fun to do together when you visit!
Fitness Gifts
Does your loved one live in an assisted living community with fitness amenities? If fitness classes or group exercise programs are something they love to do, think about getting them something to use when they go! Some great options include:
Hand weights
Gym apparel
Stretch bands
A water bottle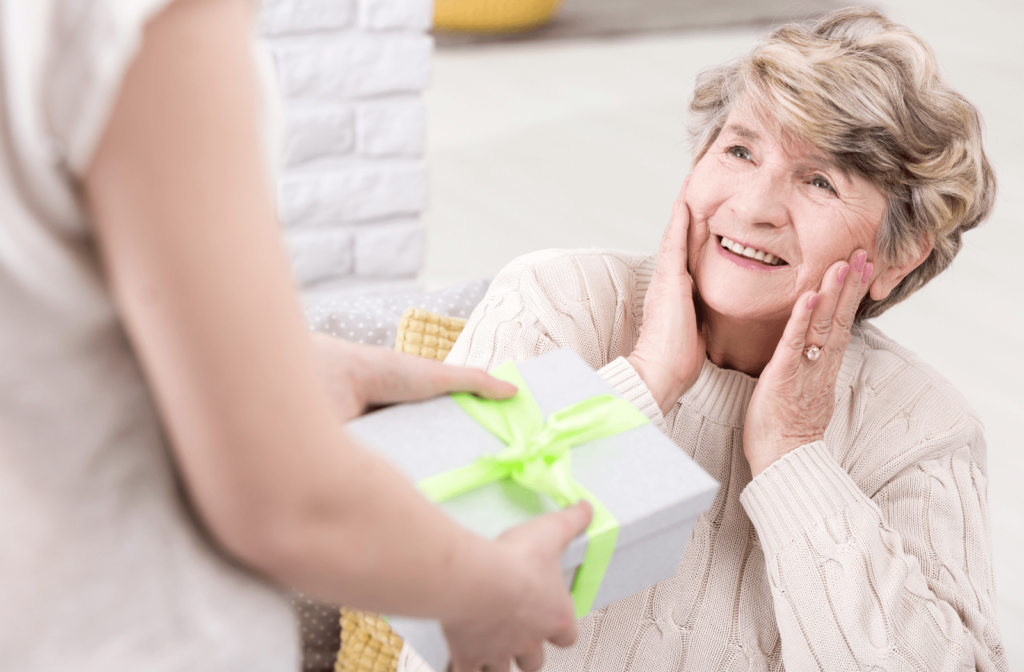 Hobby Gifts
What does your loved one like doing the most? If you can't remember, give them a quick call and ask them how they spend their time in their living community–you'll probably be surprised at all the things they've been up to!
Depending on your loved one's hobby, consider the following gifts:
A new book or an e-reader
House plants
A genealogy subscription
Gardening tools
Online creative writing lessons
Art supplies or a journal
Food-Inspired Gifts
Food brings people together, so why not give your loved one a delicious gift they can savor! Taking them out to a restaurant, gifting them a homemade baked good, or sending a gift basket filled with goodies is a sure way to put a smile on their face.
Decorative Gifts
Help your loved one customize their home by sending them a decorative gift! It could be photos, a piece of art, seasonal door decor, or even something you've crafted especially for them!
Bath & Body Gifts
Sending bath and body gifts can help your loved one feel pampered and spoiled. The following gifts are all great options:
A shower bomb
Face masks
Lotion
Manicure kit
Spend Quality Time
There's no better gift than quality time. Whether you visit them in their community or take them out for a day on the town, spending quality time with your loved one will make them feel loved, appreciated, and taken care of.
Ask your loved one about their favorite childhood memories over coffee, take them to see a movie, or go for a stroll together. However you decide to spend your time together, we're sure it'll go a long way!