As you age, there are important decisions to make surrounding your lifestyle. Whether you decide to stay in your home or move into a senior living community, it's essential that you understand the pros and cons of each option so you can be confident with whatever decision you choose.
We'll discuss how each option impacts the quality of life, health care access, social interaction opportunities, and more — helping ensure older adults are able to lead fulfilling lives no matter what situation they face. We can't tell you what your priorities are, but we can provide helpful information.
Does Moving to A Senior Living Community Make Sense for Me?
Once we've reached retirement age, there's one thing we've learned for sure — life is constantly changing. Looking back on the twists and turns of your life, you can see how each decision led you to where you are today.
But even with all the experience you've gained, it can still be difficult to know what your next steps should be. This is especially true when it comes to making a decision as big as whether or not to sell your home and move to a senior living community.
Staying in Your Current Home
For many, staying in your current home (sometimes called "aging in place") may sound like the simplest and cheapest solution, but are you sure you're looking at the big picture? Is your current single-level home able to offer you everything you need to lead a fulfilling life — now and in the future? If your health needs change, will you be able to afford the accommodations you need, such as in-home care, transportation and specialized equipment for your home? Will you be able to easily navigate around your home? If your answer is "yes" to these questions, then staying in your current home may be the best choice for you.
Pros of staying in your home
Familiar with your surroundings.
Often a larger space, so no need to downsize your belongings.
No hassle of moving.
Might have home paid off.
Can use in-home care providers, if needed. (personal care or skilled nursing and therapy services)
Cons of staying in your home
Continued investment of time, money and energy to maintain your home
Costly property taxes, even after the house is paid off.
Risk of becoming isolated, which can lead to loneliness and depression.
Becoming sedentary, which often impacts health and mobility.
Help in an emergency may be several minutes away.
Your needs or your spouse's health needs may change.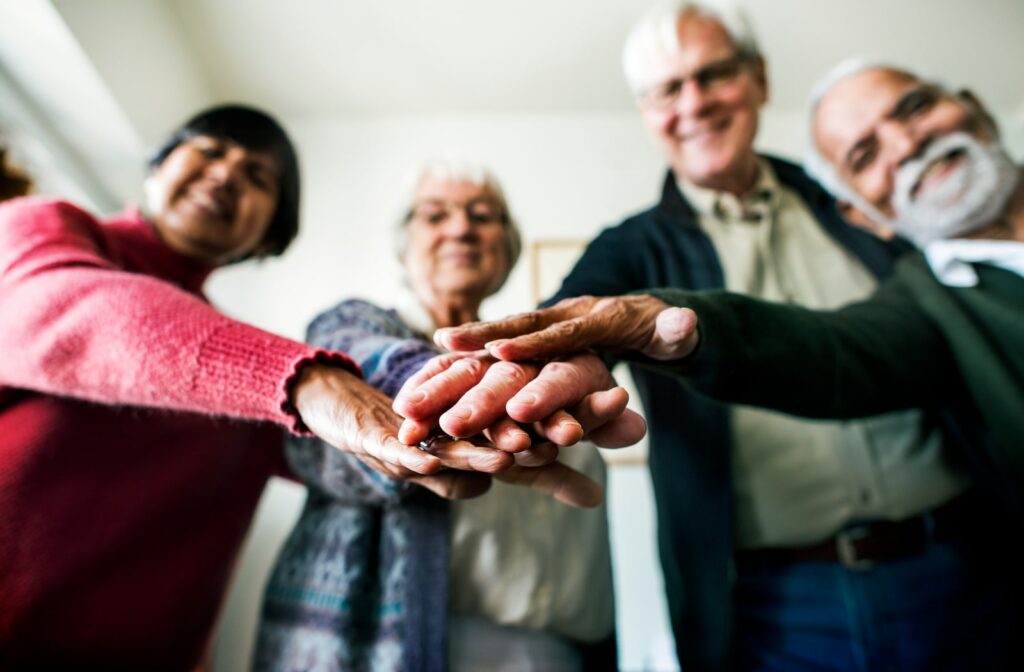 Moving to a Senior Living Community
Moving to a senior living community is a big change and the financial details can be confusing. You may initially be intimidated by the entrance fees involved when considering a senior living home, but it's important to know what's included with those fees to determine if the value outweighs the cost.
For example, in senior living communities, you are not responsible for maintenance and repair costs or property taxes. Some communities even cover utilities. You won't have to pay someone to mow your grass or shovel the snow because that's taken care of as well.
If you move to a Continuing Care Retirement Community (CCRC), you'll have access to multiple levels of care. This means that if your needs change, you don't have to scramble to find quality care. You can remain in your community, with the help of staff members you already trust.
Pros of senior living
More manageable living space.
No home maintenance, saving you time and money.
Yard and walkways are maintained and cleared for you.
Large support network and a community of peers.
Strong focus on wellness needs.
Activities and clubs to keep you active and social.
Help in an emergency is only steps away.
Continuing Care Retirement Communities offer a long-range plan as your health needs change.
Family members don't need to become your caregivers, so family time stays just that.
Cons of senior living
You may need to downsize.
Moving and learning new surroundings.
Community rules and regulations
Lack of diversity in age of neighbors
Monthly expenses increase as you require more care.
Bethany Village Offers the Ultimate Senior Living Experience
With over 75 years of experience in Centerville, Dayton, and the surrounding areas, Bethany Village has a rich history of being a community you can trust. We offer Independent Living, Assisted Living, Memory Support, and Skilled Nursing Care — so if your needs change, nothing else has to.
We understand that navigating a move to a senior living community can be complicated. We're happy to discuss it with you and answer any questions you may have. Contact us or schedule a tour today!