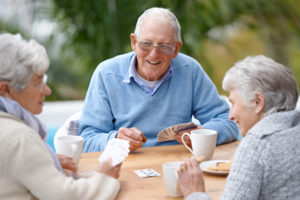 We all want the best for our parents, especially as they grow older. You might be prepared to find care for your parents when they need a little extra help, but have you considered what happens if Mom and Dad have different care needs?
Senior care is a continuum, which means that your parents could have different needs even if they are the same age. For example, maybe Mom is mostly independent, but Dad needs help with daily tasks like dressing or grooming. While it's natural for couples to require different levels of care, that doesn't mean they have to be separated.
Why is it important for senior couples to stay together?
It's simple: Many senior couples would prefer continuing to be near one another because they love their spouse and enjoy their company. Staying together also presents significant health and wellness benefits for senior couples because it helps prevent the loneliness and isolation that can be so common with aging.
At first, the desire to remain together could lead one of your parents to assume a caregiver role for the other. However, full-time caregiving is hard on anyone, especially aging adults. Over time, it could become a source of stress, burnout, and even resentment between your parents. Your goal is to find a solution that ensures both of your parents can receive the care they need while upholding their relationship and quality of life.
Can couples with different care needs stay together in senior living?
When two older adults with different care needs want to stay together, there are a few options. Home health care is one arrangement for couples who would rather remain in their home while one adult receives part-time care. This option may require an investment in certain equipment to make their home safe and accessible. In many cases, older adults and their families find that moving to a continuing-care retirement community (CCRC) is the best solution for their situation.
A CCRC like Bethany Village offers several levels of senior care in a single community, including independent living, assisted living, assisted living memory care, skilled nursing, memory care, and even senior rehabilitation. Because the entire continuum of senior care is offered under one roof, it makes it possible for spouses to stay in the same familiar community they call home.
By choosing a continuing-care retirement community, you can be confident that your parents will always receive the care they need, no matter what the future holds.
At Bethany Village, we understand the importance of strong relationships for overall health and happiness. Even as our residents' needs change, our team of expert caregivers adapts to ensure they're always surrounded by faithful caring.
Would you like to learn more about life at Bethany Village and our continuum of care? Call (937) 433-2110 or fill out our contact form, and we'll be in touch with you soon.