Older adults are choosing to move to assisted living communities rather than "age in place" at home. Assisted living provides the right balance between supportive care and modern senior living options.
Despite its growing popularity, many older adults and their families still aren't clear on the benefits of moving into an assisted living community. If you're ready to start looking at assisted living communities for yourself or a loved one, there are a few things to keep in mind.
Assisted living communities are not the same as nursing homes
Many people use the terms "assisted living" and "nursing home" interchangeably. There are important differences to understand about these two types of senior care communities.
Assisted living is an ideal solution for older adults who want to remain independent but may need extra support with some daily activities. Assisted living communities offer older adults the modern apartments they want with the safety and wellness features they need.
Nursing homes, which are now more commonly known as skilled nursing facilities, provide the care for older adults needing a higher level of daily care. Older adults living in skilled nursing facilities benefit from 24-hour assistance and ongoing medical attention from licensed nurses.
Assisted living offers customized care solutions
Residents in assisted living communities work with compassionate staff members to develop care plans that are tailored to fit their individual needs and interests. These customized plans allow residents to maintain as much of their independence for as long as possible.
In assisted living, residents' needs are assessed regularly, allowing caregivers and their families to adjust for any changes in the level of support and assistance they may require. If a medical emergency should arise, residents and their families can have peace of mind knowing a licensed nurse is on-call 24 hours a day, seven days a week.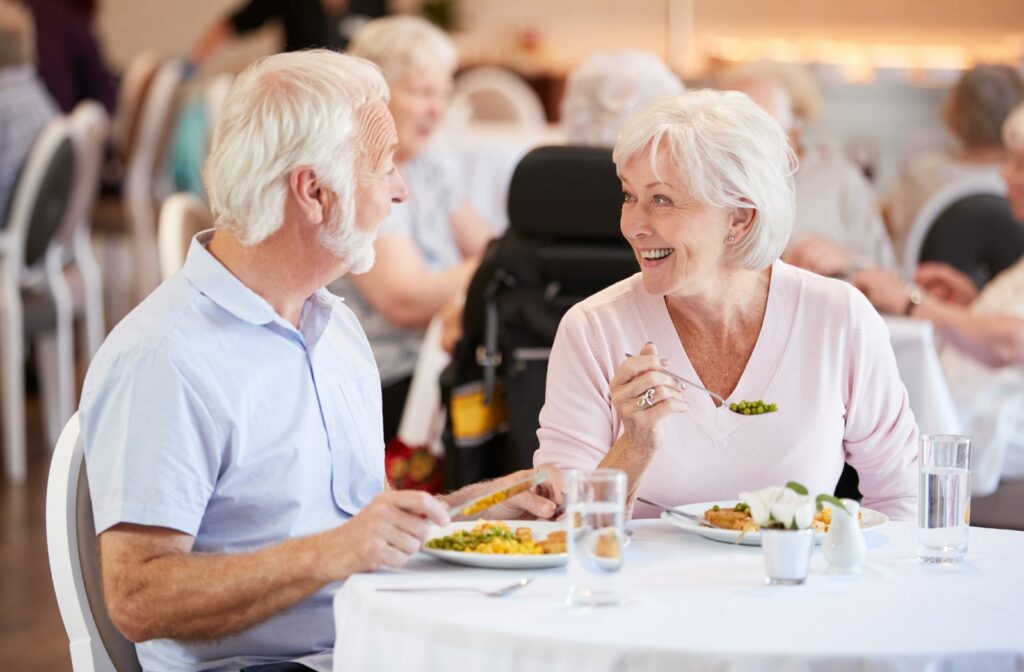 All assisted living communities are unique
No two assisted living communities are exactly alike. From architecture to interior design, assisted living communities can vary greatly in their look and feel. Some assisted living communities offer a wider variety of amenities to help residents stay active and healthier. Residents can enjoy on-campus restaurants, transportation services, housekeeping, fitness facilities, wellness centers, and even beauty salons and barber shops.
There's also a significant difference between nonprofit and for-profit assisted living communities. Most for-profit communities are owned by large, national corporate chains, whereas nonprofit assisted living communities are privately owned, and often associated with religious organizations. When visiting nearby assisted living communities, be sure to ask about the community's mission and values.
Assisted living gives older adults more freedom
Some older adults feel apprehensive about moving to assisted living because they believe it will limit their freedom. The truth is, assisted living offers older adults a greater level of freedom compared to living alone.
Residents can live a maintenance-free lifestyle. With less time spent on household chores, cooking, and maintenance, residents have the freedom and flexibility to explore new interests and spend their days however they choose!
Assisted living makes it easier to form new friendships
It can be difficult for older adults to make new friends and stay socially connected, especially those who live alone. Moving to an assisted living community gives residents endless opportunities to meet new people and form friendships with others who share their interests and hobbies. With common areas and various activities to participate in, assisted living makes it easy to socialize and create lasting friendships.
Assisted Living in Dayton
Bethany Village has created an assisted living community with modern apartments and access to programs that allow residents to live the life they choose. While you may need extra help with daily living, it doesn't mean you need to compromise.
Arrange your private tour today! We're located in Centerville, Ohio, near Dayton.