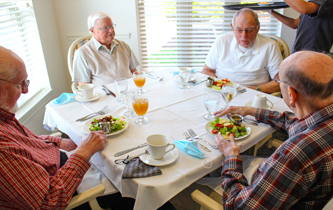 You know that your parent or older loved one could benefit from the expert care, safety, and social interaction assisted living has to offer. But finding the right fit isn't always easy. Even after taking multiple tours of assisted living communities, it's hard to know if your loved one will feel comfortable and happy once they're actually living there.
Ultimately, you want to make it as easy as possible for your loved one to adapt to their new home in an assisted living community. If this situation sounds familiar, respite care can prove incredibly helpful for your family!
What is respite care?
Respite care provides short-term relief for caregivers of older adults, often when they need a break to relax, travel, or take care of other responsibilities. During a respite care stay, seniors receive assistance with daily tasks such as grooming, dressing, or medication management.
Temporary respite care stays are sometimes offered at assisted living communities, giving seniors the opportunity to experience a new environment where they can enjoy the same personal care services, amenities, and comforts as current residents. Respite care stays are typically arranged for a few days up to several weeks.
Why respite care is a good "trial run" for assisted living
In addition to giving caregivers a much-needed break, respite care can be a helpful way for seniors and their families to understand what it's like to live in an assisted living community before making a permanent move.
During a respite care stay, seniors are able to participate in life within the assisted living community just as if they were full-time residents. Respite care guests stay in private, fully-furnished suites. They enjoy the delicious and nutritious meals served in the community's dining room. They have access to convenient on-campus amenities, such as fitness classes, community gathering spaces and libraries, snack and coffee stations, and beauty salons. They engage in fun activities where they can interact with other residents and make new friends. Most importantly, they have 24-hour access to care and support they need, when they need it, providing family caregivers with priceless peace of mind.
Best of all, a temporary respite care stay in assisted living is designed to be relaxing, not stressful. Because it's not a permanent move, you won't have to worry about things like downsizing your loved one's home, packing up all their belongings, and moving into a new space. This will allow you and your loved one to focus on all the positives of assisted living and make a more informed decision together.
Another benefit is that if your loved one decides to become a resident, they'll be returning to a familiar setting with familiar faces. Knowing what to expect can relieve a lot of anxiety and fear about moving, helping your loved one feel excited about their next chapter of life.
Experience Respite Care at Bethany Village!
At Bethany Village, we understand that helping a loved one transition into an assisted living or assisted living memory care community is a significant life change for everyone involved. The opportunity to "test the waters" with a temporary respite care stay can help you determine if a community is the right fit, making it much easier for your family when the time comes to make a decision!
Respite care at Bethany Village allows seniors to experience life as a resident of Crescent Crossing Assisted Living or Pavilion Assisted Living Memory Care, giving them the chance to meet our friendly staff and residents, participate in life-enriching activities, try our delicious dining options, and enjoy everything our beautiful community has to offer before deciding to call Bethany Village home.
As the holidays are approaching, now is an excellent time to explore respite care and arrange a short-term stay at Bethany Village! Please contact us today — we would be delighted to speak with you and answer your questions about life at Bethany Village!