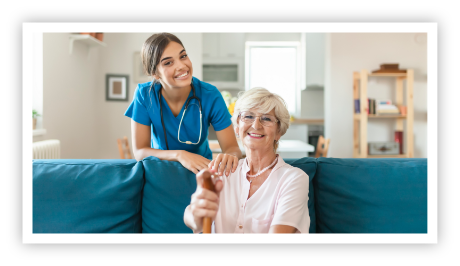 When you or an older loved one begins to need extra support at home, enlisting the help of a home health care provider can be invaluable. Home healthcare makes it possible for seniors to "age in place" by offering a range of medical services to help them remain safe, happy, and healthy in the comfort of their homes.
Today, there are many different types of home health care providers, but not all offer the same quality of care. As you research and compare home health care options to find the best fit, be sure to ask the following questions:
#1: What is the provider's background and reputation?
Reputation matters when choosing a home health care provider. How long have they been providing services? Is the provider part of a large corporate chain, or local to your community? Are they recommended by health care professionals, caregivers, and patients? Reading online reviews can provide some insight into a provider's reputation and give you an idea of what to expect.
#2: What types of services does the home health care provider offer?
Some home health care providers only specialize in certain services or levels of care. But because older adults' care requirements change over time, it's best to look for a provider that offers a wide range of in-home care services to ensure their needs are covered now and in the future.
For example, Bethany Village Home Health Care provides skilled nursing and licensed therapy services in the comfort of home, including physical, speech, and occupational therapy, wound care, IV therapy, and medication management.
#3: How does the home healthcare provider select and train its employees?
When choosing a home health care provider, you want to know that you're bringing in people into your home that you can trust. Don't be shy about asking questions to find the best fit for yourself or a loved one. How does the provider select its caregivers? Do they perform thorough background checks? Do employees receive ongoing training?
Bethany Village Home Health Care is part of Bethany Village , one of the area's premier senior living communities, which means our skilled nurses and therapists are thoroughly screened and trained to ensure they meet our high standards of quality.
#4: Is the provider highly rated for patient satisfaction?
Medicare.gov gives patient satisfaction surveys each year, asking patients (or their family or friends) about their home health care, and if they would recommend that agency to someone else. Bethany Village Home Health Care has been rated 5 stars for patient satisfaction — the highest rating — reflecting our commitment to quality care and personalized services.
#5: How does the provider include the patient and their family in the care plan?
Before choosing a home healthcare provider, be sure you understand their process. How do they assess a patient's current and potential needs and develop a customized care plan? Are treatment plans and services documented and explained to the patient and their caregivers? How does the provider communicate with family members about their loved one's progress, changes to their care plan, or any other concerns?
When it comes to home healthcare, you have a choice!
Whether you or a loved one are recovering from an illness or injury, or simply need a little extra help with daily tasks, you can count on Bethany Village Home Health Care to provide exceptional quality care in the comfort of home. The compassionate caregivers at Graceworks at Home deliver a range of professional at-home care services — including skilled nursing, therapy, and non-medical services — with the same dedication to Faithful Caring as the staff at Bethany Village.
To learn more and arrange at-home care for yourself or a loved one through Bethany Village Home Health Care, please contact us today.