Although getting older is inevitable, there's more than one way to approach the idea of aging. Thanks to an emerging trend in senior living known as "active aging," today's seniors are not just living longer — they're living better. Active aging is all about taking steps to stay healthy in mind and body so seniors can continue living engaging and fulfilling lives as they grow older!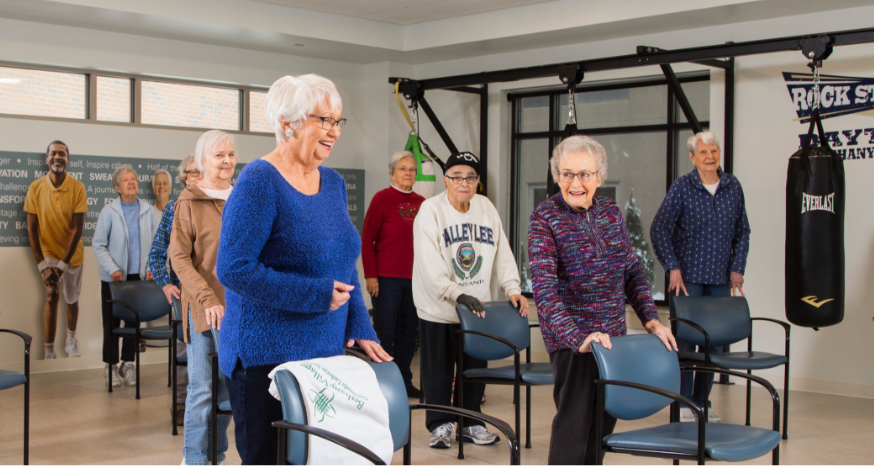 Today, let's take a closer look at some of the ways senior living helps residents embrace active aging and make the most of their retirement years:
Fun and accessible fitness
Regular exercise is one of the most essential components of active aging. Physical activity is known to improve strength and balance, reduce falls and injuries, and boost mental wellbeing as we get older. No matter your age, it's never too late to begin exercising. Best of all, living in a senior community makes it easier and more accessible for older adults to engage in fitness activities that fit any pace and lifestyle.
In a senior living community, older adults of all ability levels have the opportunity to participate in fitness classes ranging from aerobics and strength training to chair yoga and cardio boxing. At Bethany Village, we encourage active aging and physical exercise by providing access to our state-of-the-art fitness center, fun group exercise classes, and convenient indoor and outdoor walkways. If residents need help using equipment or starting an exercise routine, the expert Exercise Specialists in our fitness center are always available to help them stay safe and focus on their goals.
Activities to suit every interest
Along with physical workouts, mental workouts are another important part of active aging. In senior living, residents have the opportunity to stay active through the ongoing development of their interests, skills, and talents. This means continuing the meaningful activities they love and exploring new hobbies as they please. Gardening, creating art, making music, playing cards and games, and attending continuing education classes are just some of the many engaging activities residents enjoy once they move into a senior living community like Bethany Village.
Nutritious and delicious dining
Good food is one of life's greatest pleasures, and good nutrition is key to active aging. However, meeting daily nutritional requirements isn't always easy for seniors, especially those who live alone. This is why today's senior living communities focus on offering well-balanced meals that are both nutritious and delicious to help residents maintain a healthy, active lifestyle. At Bethany Village, dining is more than a time to eat, it's an opportunity to interact with others and make new friends around the table. In this way, sharing meals together in a community environment promotes both nutritional and emotional wellbeing.
Strong support networks
Active aging also encompasses social support and a sense of belonging. Social connections play a pivotal role in preventing loneliness, isolation, depression, anxiety, and even certain health conditions like obesity. As we age, our social and support groups tend to shrink. In a senior living community like Bethany Village, residents don't just live near one another; they truly care about one another. From the moment a new resident steps foot on campus, they'll have endless opportunities to socialize and form friendships through clubs, group activities, and community-wide events.
Stay active, be engaged, and enjoy life!
Bethany Village is an active and vibrant senior living community where residents are encouraged to live life to the fullest every day! With fitness classes, engaging activities, fun social events, and, of course, delicious dining, Bethany Village is more than just a place to live — it's a place to connect and thrive.
As a continuing-care retirement community, Bethany Village offers living options for every lifestyle and the full spectrum of senior care on one campus, including independent living, assisted living, memory care, skilled nursing care, and an on-site rehabilitation center. This means there's no need for residents to relocate to an entirely new community when their needs change. Instead, they'll be surrounded by the faithful caring that only Bethany Village can provide no matter what the future holds.
Is it the right time for senior living? Take this quick survey to learn about your options and get personalized results in less than 5 minutes.
To learn more about Bethany Village and schedule a tour of our beautiful community, please contact us today. We're always happy to answer your questions and share more about life at Bethany Village!