The air is crisp and cool, the leaves are changing, and pumpkins are everywhere. Fall is here! Although autumn is one of the most beautiful times of the year, the change of seasons can also present several health and safety hazards for seniors.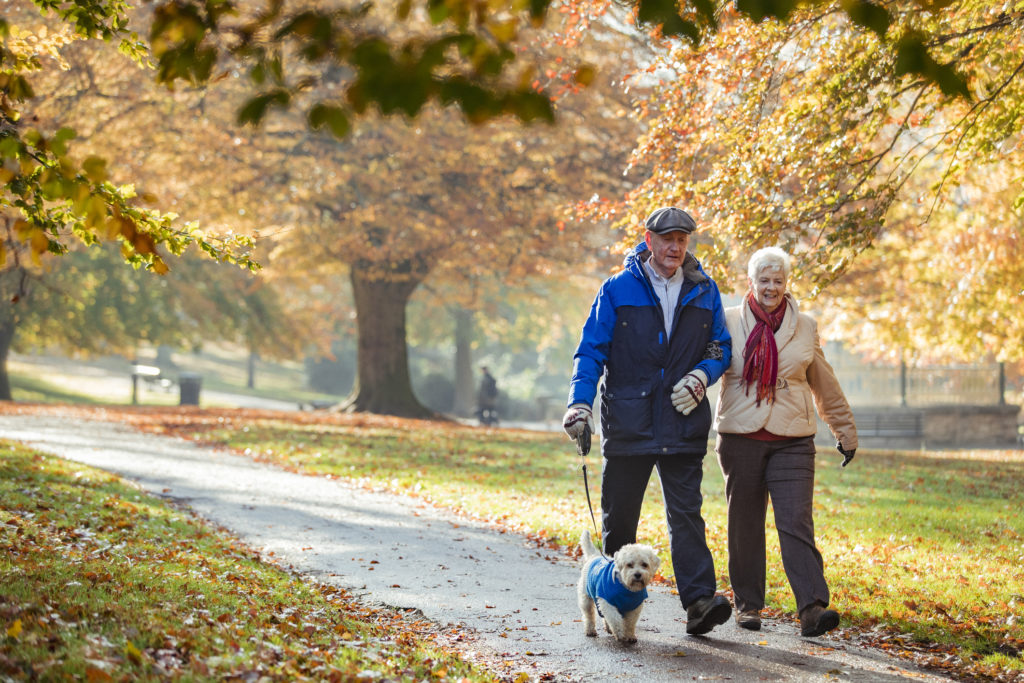 In preparation for the coming colder months, here are some helpful tips to keep seniors safe this fall:
#1: Get cold weather-ready
As the temperature starts to drop, it's important for seniors to take steps to regulate their body heat, whether they're indoors or outdoors. Make sure you or your loved one has plenty of warm clothing, including sweaters, long pants, wool socks, gloves, scarves, hats, and a good coat. It's also a smart idea to test heating systems to ensure everything is in running order before winter arrives.
#2: Prevent slips and falls
Having the right cold-weather clothing also includes wearing proper seasonal footwear. While autumn's changing colors are beautiful, the fallen leaves can become very slippery when wet. In addition to clearing walkways and keeping floors dry, make sure you or your loved one have shoes or boots that fit properly and offer plenty of traction to prevent slips and falls in rainy or frosty weather.
#3: Prepare for flu season
Fall marks the start of flu season, making it all the more important to be proactive in preventing the spread of germs and bacteria. In addition to ongoing concerns about the COVID-19 virus, adults over the age of 65 face a higher risk of health complications from influenza. Simple steps can make a big difference in preventing illnesses, including washing your hands frequently, avoiding touching your eyes, mouth, and nose, and eating healthy foods to help strengthen your immune system. If recommended by their doctor, seniors should also consider getting their annual flu shot.
#4: Make a plan for winter emergencies
Harsh winter storms can cause frozen pipes, power outages, and icy roads that make traveling difficult. But even though winter emergencies happen when we least expect them, there are ways to prepare. Be sure you have emergency supplies nearby, including flashlights with fresh batteries, non-perishable food and water, extra blankets, and a first aid kit. If you have a senior loved one living alone, establish a communication plan with your family before winter arrives to ensure there's always someone to check in on them in the event of an emergency.
Is it time to get extra help?
With winter on its way, autumn is a great time for seniors and their families to give some thought to future living arrangements. Is home upkeep becoming too much of a hassle? What about the demands of lawn work, including raking leaves and shoveling snow? Are safety hazards or fall risks becoming a concern? Is it growing tiresome to cook every meal at home? If so, consider the benefits of at-home healthcare or a senior living community.
When you or a loved one needs help preparing for a safe, happy fall season, Bethany Village is here to help! For seniors who wish to age in place, our home health care services are available to provide Bethany Village Care in the comfort of your home. And, if it's time to think about downsizing and relocating to a senior living community, Bethany Village has living options for every lifestyle and level of care. To request more information, please fill out our contact form. We would be delighted to speak with you!