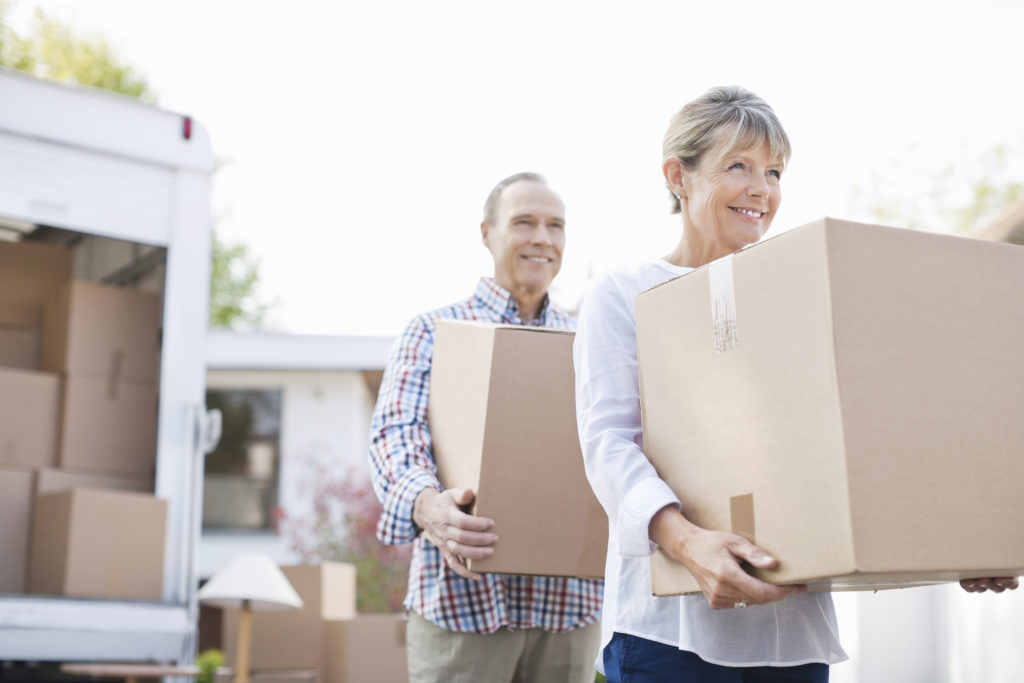 Moving is a significant, life-changing event at any stage of life. For seniors relocating from their home into an assisted living community, the transition can be especially difficult. It's not uncommon for seniors (and their families) to experience stress about downsizing, anxiety about leaving behind familiar surroundings and losing connections with friends, and uncertainty about life in a brand new community.
Are you wondering what you can do to make the move to assisted living as smooth as possible? Keep these five tips in mind:
#1: Give assisted living a trial run
The fear of the unknown can make the idea of moving to assisted living overwhelming for seniors and their families alike. To help everyone feel more comfortable and confident about the decision, consider arranging a temporary respite care stay in an assisted living community.
Respite care allows seniors and their families to "test the waters" and find out if a community is a good fit before making a permanent move. During their respite care stay, your loved one will meet other residents and experience all the amenities, activities, services, and support the assisted living community has to offer. Meanwhile, you and your family will get to know the community's staff and understand what to expect when your loved one becomes a resident. In this way, respite care can be a valuable step in the process of moving to an assisted living community!
#2: Start the downsizing process early
After finding the right assisted living community for your loved one, it's important to start the downsizing process as early as possible. Downsizing a house full of memories can be difficult physically and emotionally for everyone involved. It may take longer than you think to sort through your loved one's belongings and help them decide what to keep, pass down to family members, or donate. A good place to start is by understanding the square footage of your loved one's new assisted living apartment, which will help as you plan for furniture size and storage needs.
When time is of the essence, working with a professional organizer or senior move manager can help make downsizing a smoother, more seamless transition. At Bethany Village, our Transitions Coordinators are here to connect families with trusted local resources to help with every step of the moving process.
#3: Make their new space familiar and inviting
Adjusting to a new living space takes time, but including a few familiar pieces will go a long way in easing your loved one's transition to assisted living. For example, even if your loved one needs new furniture to fit their assisted living suite, you could select familiar colors and arrange the room similarly to their previous home. Another tip is to display favorite family photos, artwork, decorative items, and mementos prominently. Paying attention to the little details can make a new, unfamiliar space feel more like home.
#4: Encourage them to get involved
As soon as your loved one becomes a resident, they'll have endless opportunities to get involved in life enrichment activities and fun social events. Before move-in day, review the community's calendar with your loved one and encourage them to choose one or two activities to try. Participating in community events is a great way to meet other residents who share common interests and passions.
At Bethany Village, we have dedicated social workers assigned to each family and resident to make the transition process even easier. We encourage families to meet with their social worker in advance to let them know of their loved one's favorite hobbies and interests. This way, your loved one will have another familiar face in the community encouraging them to venture out. Before long, your loved one will be making new friends and finding new things to look forward to each week!
#5: Keep in touch
Before your loved one's move, it's a good idea to coordinate a schedule for family members to visit or call. Setting aside some time to check-in will help your loved one feel loved and appreciated as they get used to their new home. Once your loved one is settled in and getting involved in regular community activities, you may need to set up a new visiting schedule to fit their routine.
Be patient and stay positive!
Helping an aging loved one move to assisted living is a big life change that will come with its share of highs and lows. Don't worry if everything doesn't go as smoothly as you expected, especially in the first few weeks. It will get easier! Be patient, stay positive, and remember that you're making the best decision for your loved one.
Start the senior living search
If you know your loved one needs more daily assistance, but you're not quite sure where to start, Bethany Village has a useful tool to help families evaluate what living options might be a good fit. Use this quick 4-5 minute survey to weigh your options.
To arrange a respite care stay at Bethany Village or schedule a tour of our beautiful community, please contact us today. We'd love to hear from you and answer any questions you may have!