How to Declutter & Downsize Your Home Effectively
Planning a move and getting ready to move into a new community can be hectic. If a move is on the horizon, keeping in mind where you're moving and the space available is essential. Decluttering and downsizing your home can seem like a tall task, but it doesn't have to be that complicated.
Let's look at how to declutter and downsize your home effectively.
The Downsizing & Decluttering Approach
The first thing to consider is the space you're planning to move into—whether your living space is larger or smaller plays a significant role in your approach.
A downsizing and decluttering cleanse can also bring peace of mind and is a process that you should not rush.
Let's take a look at some tips and important steps.
Give Yourself Time Before the Move
The planning stage of the decluttering process is vital, and you should give yourself an adequate amount of time to develop a game plan. A smart strategy is starting a few months in advance with larger items and ramping it up to tackle all the clutter.
Moving large items such as couches, beds, and dressers can require assistance, so knowing what you need to move ahead of time can allow you to make the necessary arrangements.
Think About What You Want to Keep
Hanging on to every item you own, whether you actively use it or not, is a habit many people share. Things you spontaneously bought and stored away that are collecting dust aren't essential, and you most likely won't miss them.
The furniture you no longer need and old clothing are prime candidates to donate or sell/give away at a garage sale.
That's not to say there aren't any precious items you shouldn't hang on to. Give yourself some time to sift through any boxes and decide to keep things you value and part with the rest.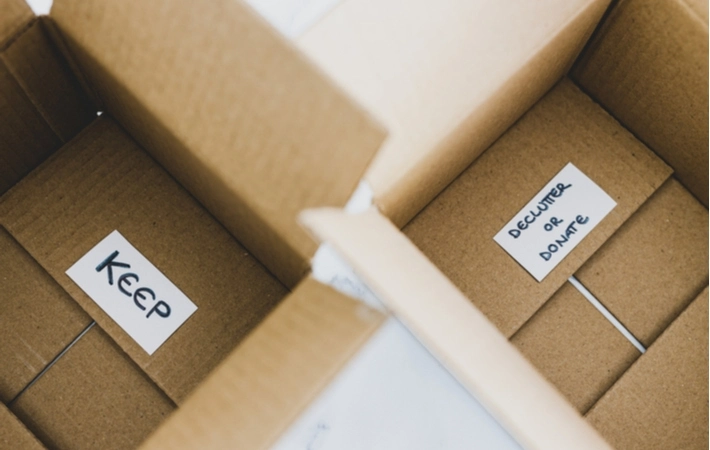 Sort & Go Digital When Possible
Your personal documents and memories are valuable, and sorting them out and digitizing them is crucial for the downsizing and decluttering process. Going paperless can free up a ton of space and help you keep things organized in a single location.
Things like photo albums and sentimental media are special, but there's no harm in having backups just in case.
Avoid Getting Distracted
The prospect of packing and moving to a new community can be overwhelming—having a cluttered environment in a new space can add to that. Creating a decluttering schedule can help with that, and sticking to a consistent plan can avoid any detours along the way.
It's only natural to take breaks, but distractions can prolong the overall process and sink even more time into the process.
Prioritize Useful Furniture
Once you begin the process of downsizing and decluttering, you'll inevitably run into the decision about what furniture to keep and what to discard. The choice will come down to what furniture will best fit in with your new space.
Functional easy-to-move furniture is ideal, and keeping your new living space in mind will help make the decision for you. We also recommend considering smaller size furniture, as this helps create more space if you are moving into a smaller home.
Consider Your New Lifestyle
Whether you're downsizing and decluttering your own home or helping your loved ones with their homes, keeping the upcoming new lifestyle in mind is essential.
Suppose your loved ones plan to move into a new community and require special care such as assisted living or memory care. In that case, it's crucial to declutter based on their needs and to the specifications of their new living space.
Don't be afraid to ask for guidance and assistance if you're feeling lost or need some extra information on their new living space.
These are just some of the tips and important steps that go into downsizing and decluttering. The process can bring clarity and a sense of satisfaction. It can initially be tough to part ways with items you've had for a long time, but it will pay off in the long run.
Committing to Downsizing & Decluttering
Downsizing and decluttering doesn't have to be something you actively avoid. The process can serve as a cleanse and allow you to prepare for your new living space with excitement. Staying organized and committed throughout the journey can help.Get in touch with a Marketing Counselor at Bethany Village who can assist you with this process and help you along the way.