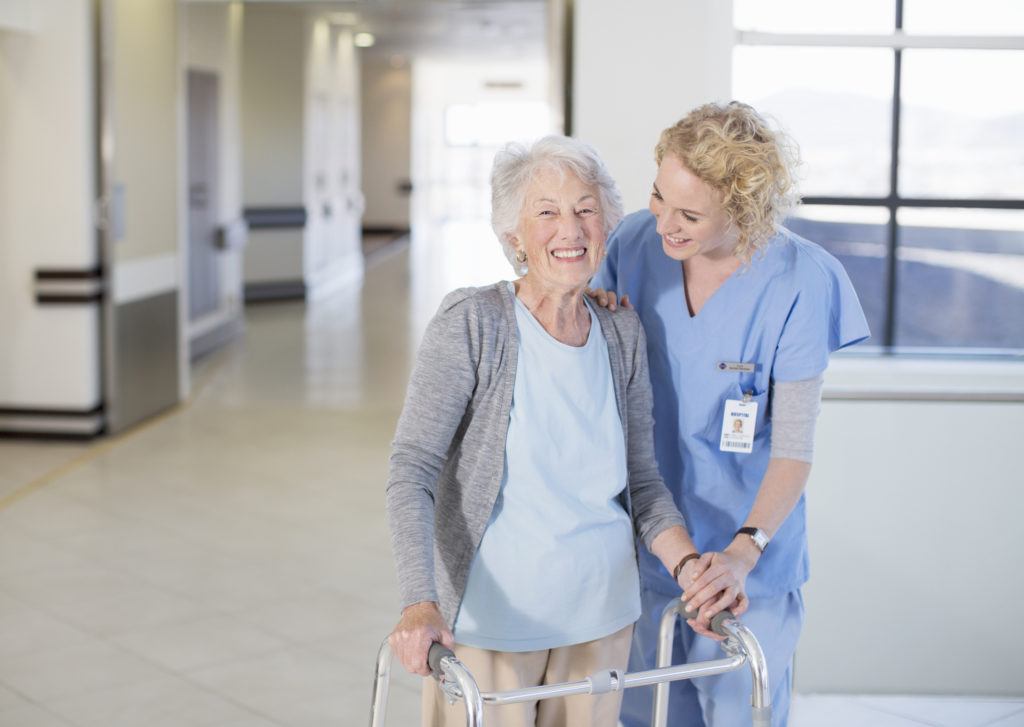 September is National Falls Prevention Month, a time to raise awareness about falls and the steps we can all take to prevent them. Falls are particularly common — and dangerous — among adults over the age of 65. According to the National Council on Aging, one out of every four older adults will fall each year, and falls are the leading cause of fatal injury among older adults.
Even if a fall does not result in an injury, it can drastically alter one's quality of life. A fear of falling may cause older adults to limit their usual activities, leading to isolation, loneliness, and physical decline. Because the effects of falling are so serious, it's all the more reason to raise awareness about fall prevention and education.
Here's what you can do to take action this Falls Prevention Month:
Be proactive about fall prevention
Some people mistakenly believe that falls are an inevitable part of aging. While it's true that our risk of falling increases with age due to natural body changes, falls are preventable!
At Bethany Village, we take fall prevention seriously. We're proud to offer fall prevention classes focused on helping residents improve strength, maintain balance, and stay mobile. Because the fear of falling can actually lead to an increased risk of falling among older adults, the goal is not only to prevent falls but also help residents understand what to do in the event of a fall. This includes teaching techniques for falling safely in order to prevent and minimize injury.
Along with balance and fall prevention classes, Bethany Village residents have the opportunity to improve their strength and mobility in our state-of-the-art fitness center and participate in fun group exercise classes for all ability levels.
Address the natural changes of aging
Natural, age-related health changes can play a significant role in the prevalence of falls among older adults. Examples may include hearing loss, eyesight issues, reduced strength, and chronic conditions such as arthritis and diabetes.
As these changes occur, physical and occupational therapy can make all the difference in helping older adults maintain their balance and mobility, manage pain, and continue living as independently as possible. While many people require these therapies when recovering from a fall or other health event, there are benefits to receiving physical or occupational therapy treatments to help prevent these incidents and promote a healthier, more active lifestyle.
Bethany Village offers an on-campus Rehabilitation Center giving residents priority access to physical and occupational therapy, as well as speech therapy as needed. If a resident does experience a fall or injury, a short-term stay in the Rehabilitation Center allows them to focus on healing in a safe, comfortable environment within the Bethany Village community.
Identify fall hazards
Trip, slip, and fall risks can be found almost anywhere, both inside and outside the home. Be aware of common hazards, such as:
Loose carpet or unsecured area rugs
Wet floors
Clutter and electrical cords in walkways
Unsecured railings
Dim lighting
Uneven steps or stairs
Slippery bathroom showers or tubs
Ill-fitting shoes or footwear without proper tread and slip-resistant soles
Unsafe canes or walkers without non-slip features
To help fall-proof your home, consider installing safety features such as automatic or voice-controlled lighting, grab bars in bathrooms, non-slip rugs and bath mats, and handrails on both sides of stairways.
Is it time for more support?
If you're worried that an older loved one living alone is at risk of falling, it could be time to consider the benefits of an assisted living community. In assisted living, residents receive the level of support they need with their daily activities, allowing them to live their most independent lives in a safe, caring environment.
With caregivers and nurses on-staff 24-hours a day, as well as alert systems located throughout the community, assisted living residents and their families can rest assured that help will always be nearby in the event of a fall or other emergency. In addition to offering fall prevention and balance classes, the living spaces, bathrooms, and common areas in assisted living communities are equipped with safety features to ensure accessibility and prevent falls.
For more information about assisted living at Bethany Village, please fill out our contact form and we'll be in touch with you right away to schedule a tour.