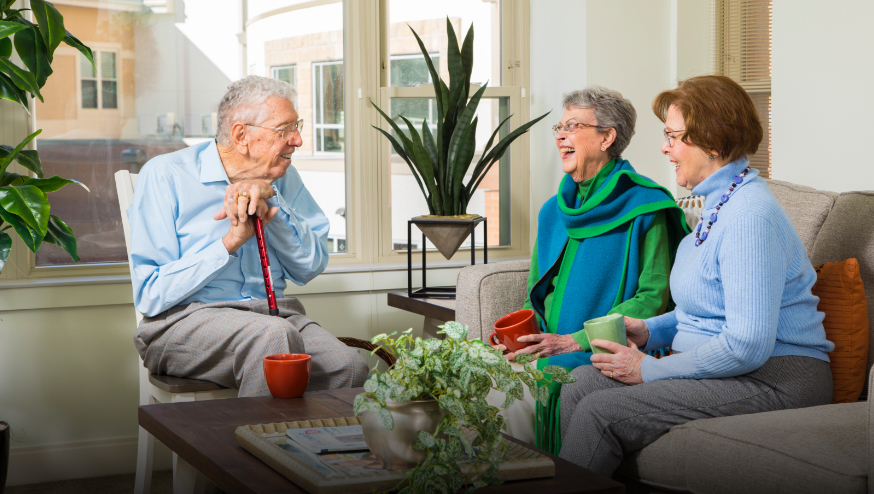 The Mather Institute recently released the latest report from its innovative 5-year Age Well Study. The Study provides further insight into the health and wellness of seniors living in continuing-care retirement communities (CCRCs). Building upon the first two years, Year 3 of the Age Well Study focused on the happiness and life satisfaction of residents of CCRCs, communities that provide the full spectrum of senior care all on one campus.
Through a combination of surveys and interviews with thousands of participants, the report revealed how CCRC residents' health, psychological resources, personality traits, and social and communal factors were associated with their overall emotional wellness.
Here's a look at some of the most interesting findings from the report:
Sense of Community
No matter our age, we all thrive in environments where we can experience community, friendship, and true belonging. The Study found that CCRC residents who reported having a greater sense of community belonging and social cohesion were happier and more satisfied with life. These findings are particularly meaningful when considering that older adults often face an increased risk of loneliness and social isolation. The Age Well Study shows how living in a vibrant community that offers daily opportunities for socialization can provide powerful emotional wellness benefits.
Physical Health and Wellbeing
Researchers also found that CCRC residents with better self-reported health also report greater happiness and life satisfaction. This confirms what we already know: the mind and body share a strong connection. In a continuing-care retirement community like Bethany Village, all residents have access to nutritious dining services, fitness centers and classes, as well as dedicated caregivers and medical professionals on staff. In this way, living in a CCRC makes it easier for older adults to look after their physical and emotional wellness than it would be if they were living alone.
Satisfaction with Senior Living Community
According to the study, 91% of residents were "completely" or "very" satisfied with their senior living community. Overall, the residents who were more satisfied with their community also tended to be happier and more satisfied with their lives as a whole.
This shows that where you live matters. When choosing a continuing-care retirement community, it's important to research, take tours, and ask questions to find the right community for you — one that you'll continue to be satisfied with as you grow older.
Experience the benefits of a continuing-care retirement community
Are you ready to begin learning about continuing-care retirement communities for yourself or a loved one? Contact us to learn more about life at Bethany Village and schedule a private tour.