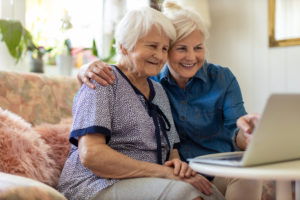 Caring for an aging parent or loved one can be challenging, but it's even more difficult when you live in another city or state. According to the National Institute on Aging, if you live more than an hour away from a person who needs your care, you're a long distance caregiver. Like local caregivers, long-distance caregivers provide help with things like finances or money management, coordinating health care and doctor's appointments, and arranging for in-home care or locating senior living facilities. However, being separated by distance often makes these tasks more complicated for caregivers.
So, how can you successfully meet your parent's care needs from miles away? Here are a few tips for getting started with long-distance caregiving.
Have important discussions early on
It's not always easy to talk with our parents about aging and their plans for the future. However, having important conversations about your parent's needs, plans, and wishes is the best way to ensure your family is well-prepared for the future. Schedule a family meeting to discuss their wishes currently and as their health changes. Discussing finances is often the more difficult conversation. It is important to know how their finances are set up, how to pay for healthcare, and the amount they currently budget on a monthly basis. The next important topic is the matter of their will. Knowing who their lawyer is and where copies are kept are important pieces of information. Having such conversations early and often will avoid any confusion down the road.
Assess your parent's needs
As your parents grow older, it's likely they'll experience some changes in their health and lifestyle. Some important information to know is where extra keys are located, maybe getting to know neighbors who can watch out for your parent and if they have an alarm system or emergency alert device that contacts you in the case of an emergency. Having a team in place can certainly help and create more peace of mind. Your team can include a handyman for home maintenance, a visiting nurse, a friendly neighbor, and a landscaper to care for the yard.
When you visit your loved one's home, take time to look for signs that they may need extra help, including poor housekeeping, changes in eating habits, mobility issues, or lapses in memory. Stay in contact with your loved one's friends and neighbors, and ask them if they notice any signs of problems. Older adults often feel embarrassed about asking for help and try to hide or deny the fact that they need additional support. If anything catches your attention on your next visit, be sure to mention it to your parent and ask how you might make that task easier on them.
Get educated about the types of senior care available
Before you can start seriously looking at senior living options for your parent, you'll need to become educated about the many types of care facilities available, including independent living, assisted living, memory care, and skilled nursing care. Because each type of senior living community offers different levels of care and support services for aging adults, doing your research will help you evaluate the best option for your parent.
Prepare for changing care needs
One of the biggest obstacles long-distance caregivers face is preparing for their loved one's changing care needs. Discussing and developing a plan that addresses your loved one's needs both now and in the future reduces the fear of the unknown and eliminates any last-minute decision-making. If the plan is to remain in their home, look into the availability of home health care services, read reviews and understand how they charge.
When living alone isn't a good option, many caregivers see the value of relocating their loved one to a continuing-care retirement community, or CCRC. CCRCs are an innovative senior living option that offers a "continuum of care." In a CCRC, all care levels are provided on the same campus, enabling older adults to stay in the comfort and familiarity of their community as their needs change over time. Choosing a CCRC gives long distance caregivers added peace of mind knowing that their loved one will receive care and support, no matter what the future holds.
If you are interested in knowing more about how to support your loved one long distance or want to know more about the benefits of a Continuing Care Retirement Community and the various living options, please contact us to learn more or to set up an appointment and tour of Bethany Village.