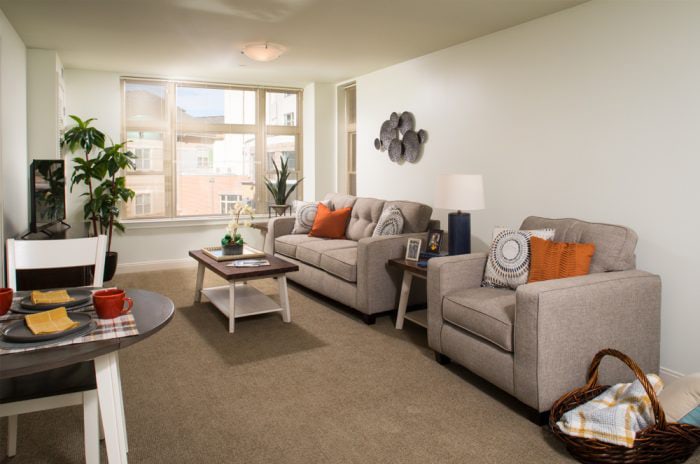 When it comes to choosing a place to spend their retirement years, today's older adults have more living options than ever before. More and more seniors are deciding to downsize their current homes to a smaller, more manageable space, whether it's for added convenience or to escalating health concerns. If you're starting the senior living community search for yourself or a loved one, use this guide to compare your options and find the right senior living community solution for you or your loved one, and your family.
Independent Living
Independent living was developed for older adults who desire a hassle-free, relaxing place to enjoy their retirement years. Most seniors downsize to an independent living community, which offers a variety of living options, from cozy cottages and villas to apartment-style living. Most independent living communities have helpful services and amenities, including home maintenance and landscaping services and safety alert systems within the home. Independent living communities might also feature social outings, programs, or events, and even convenient transportation services.
Assisted Living
Assisted living is an ideal living solution for older adults who require extra assistance beyond what can be provided at home but don't need skilled nursing care. In assisted living, seniors receive support with tasks like grooming, dressing, medication management, housekeeping, and other daily activities. Today's assisted living communities also help residents lead an active social life by organizing social activities and events ranging from art classes and movie nights to excursions to local restaurants or the theatre.
Skilled Nursing Facilities
Skilled nursing facilities are the best fit for older adults who need on-site 24-hour support and medical care. Residents receive assistance from trained care professionals, including licensed nurses as well as speech, occupational, and physical therapists. Skilled nursing facilities usually include semi-private or private rooms, dining services, and on-site security and safety features.
Memory Care
Some senior living communities feature specialized care for older adults with Alzheimer's disease, dementia, or other conditions requiring memory support. In addition to providing 24-hour supervision and care, these facilities also take extra safety measures to create an easy-to-navigate environment and mitigate the risk of dangerous wandering behavior among Alzheimer's or dementia patients.
Planning for current and future needs
As you begin the senior living community search for yourself or an older loved one, it's important to keep in mind both current and future needs. For example, while independent living may be the right fit for now, it may become necessary to move to a higher level of care like assisted living as your care needs change over time. Continuing care retirement communities (CCRCs) were developed to provide seniors with multiple flexible accommodations to fit their changing needs. In an CCRC, seniors can easily transition from one level of care to the next without leaving the comfort of their community. This provides older adults and their families with peace of mind and reassurance that they'll be well taken care of – no matter what the future holds. Contact Bethany Village to see all the living options that might suit your needs