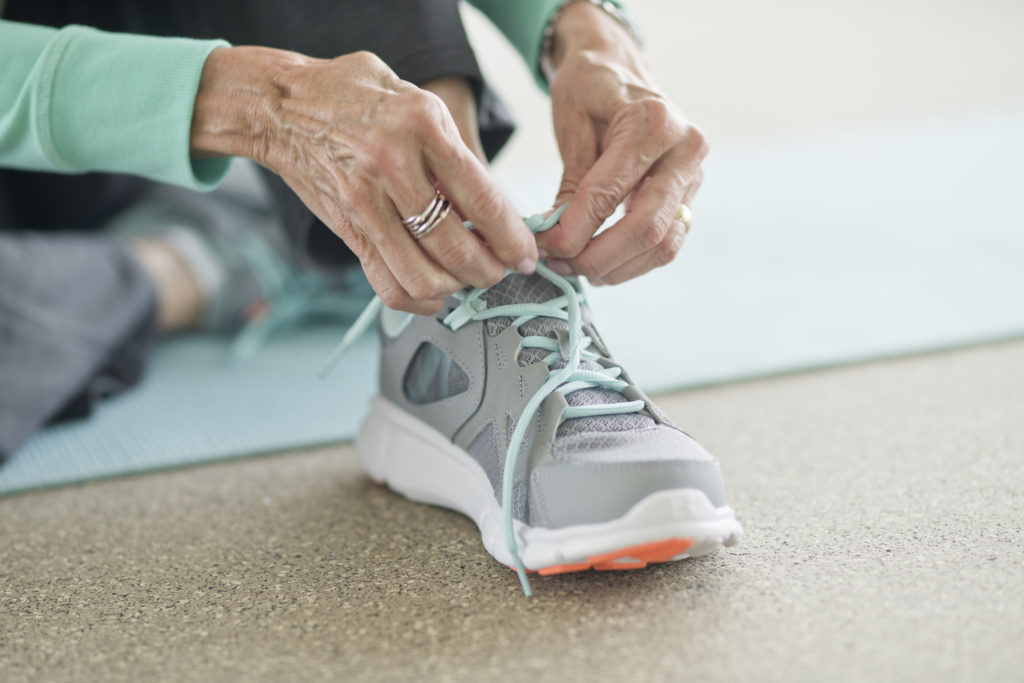 Between COVID-19 precautions and cold winter weather, we're all spending more time indoors these days. But that doesn't mean we can't still stay active! Physical activity is a key part of a healthy lifestyle, helping us maintain our energy, mobility, and independence as we get older.
The CDC recommends older adults get at least 150 minutes a week of moderate-intensity aerobic activity and at least two days a week of muscle-strengthening activity. No matter what, some physical activity is better than none!
Are you looking for ways to stay active while staying indoors? We have some tips to help you keep moving all winter long! As always, it's best to check with your doctor before starting any new exercise program.
Take a walk
Walking is by far one of the best fitness activities for older adults. It's simple, low-impact, and requires no special equipment—just a pair of sneakers! On cold winter days, residents at Bethany Village enjoy walking the halls of our interconnected campus, where they're likely to cross paths with friendly neighbors. If walking indoors isn't an option for you, walking or marching in place is just as effective. You can even step up and step down on the bottom step of a staircase.
Dance it out
Dancing provides many positive benefits for people of all ages, including improved focus, balance, flexibility, strength, and endurance. Combined with the mood and memory-boosting benefits of music, dancing is an effective way to stay healthy and keep your spirits high. You don't have to take an official class to enjoy dancing, either. Simply turn on your favorite tunes and move however feels most natural to you!
Try a fitness class
Joining an exercise class is a great way to build confidence along your fitness journey. With a fitness instructor to guide you, it's much easier to learn the basics and get into a routine.
At Bethany Village, we've started providing virtual fitness classes so our residents can still participate in the comfort of their homes. One of our most popular virtual classes is chair yoga, which accommodates any pace and lifestyle. There are also plenty of free videos and programs available online, from resistance training to pilates to Tai Chi. Try a few and see what you like best!
Use at-home equipment for strength training
You don't need fancy gym equipment to stay in good shape! You can use items from around your house to add resistance to your routine. For example, use soup cans or water bottles as dumbells. As you get stronger, you can add more weight by using heavier containers, like gallon-sized milk jugs.
Stay active at every age!
Remember, the "best" exercise is the one you enjoy doing! Feel free to mix up your activities to add variety to your exercise routine. Breaking your daily exercises into smaller, more achievable portions of 10-15 minutes can help, too. To stay motivated, consider making fitness goals for yourself, such as reaching a certain number of steps per day or week. Keep up the great work!
At Bethany Village, we help our residents lead healthy, active lifestyles defined by the activities they truly enjoy. Along with a range of fun and engaging fitness classes, we're proud to offer a state-of-the-art fitness center with the latest exercise equipment designed specifically for older adults. We invite you to schedule a tour of our retirement living community and learn more about our fitness and wellness programs.