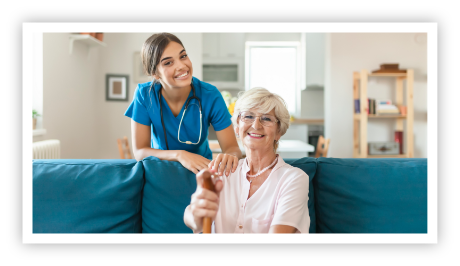 Our homes provide a sense of comfort, familiarity, and stability. That's why many older adults would prefer to "age in place" and continue living in their homes as long as possible. However, illnesses, injuries, and other health concerns can make it more challenging to safely age in place, especially for those who live alone.
One solution is home health care, which enables older adults to receive the care they need while remaining where they want to be — at home. Skilled professionals visit to provide medical services as needed, ranging from skilled nursing and physical therapy to wound care, medication management, and assistance with daily activities such as grooming, bathing, dressing, and even meal preparation.
Are you considering at-home health care for yourself or an older loved one? Here are some of the top benefits of home care to know about, including some you may not expect:
#1: Focus on recovery
Recovering from a hospital stay due to a surgery, illness, or other health concern can be a long journey, and it's critically important to prevent complications and setbacks. With at-home care, older adults can get the help they need to relax, rest, and focus on their recovery. For example, home health nurses can help older adults manage their medications to prevent harmful drug interactions. At-home physical or occupational therapists can make home a safer, more accessible environment by spotting potential hazards and making recommendations to help prevent falls and re-hospitalization.
#2: Maintain a high level of independence
At-home skilled care helps seniors stay on track with their recovery with support and guidance. Just as important, home health care providers help educate family members on important caregiving skills, giving them confidence in supporting their loved one. These convenient services allow older adults to maintain their routines with less stress so they can continue being independent at home.
#3: Provide relief for family caregivers
Caring for an older loved one is an incredibly selfless and rewarding act. However, it can also become challenging, especially if the family caregiver is not taking much-needed breaks. Even just a few hours of therapy or skilled nursing time can go a long way in preventing burnout, giving family caregivers a little extra free time and some well-deserved rest and relaxation.
Bethany Village Home Health Care: Bethany Village Care in the Comfort of Home
If you or a loved one are recovering from an illness or injury, or simply need the extra support or companionship of home care, look no further than Bethany Village Home Health Care. Offering skilled nursing, and licensed therapy services, Bethany Village Home Health Care makes it easier for older adults to live independently and comfortably at home. We offer services in Montgomery, Greene, Preble, Clark Warren and Butler counties.
Bethany Village Home Health Care's compassionate caregivers deliver professional in-home care services with the very same commitment to Faithful Caring and quality as the staff at Bethany Village. Our team will work with you and your doctor to develop a personalized care plan to meet your needs and provide the ultimate peace of mind.
To request more information about the services offered by Bethany Village Home Health Care or to refer us to your family physician, please contact us today. We would be delighted to speak with you and answer any questions you may have about arranging at-home skilled nursing care for yourself or an older loved one.