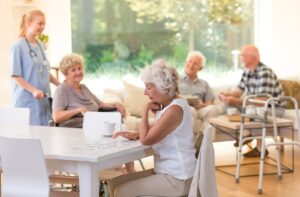 Most of us know that regular exercise and eating a well-balanced diet are important for our overall health and wellness as we get older. But research is revealing that there's another essential factor that influences healthy aging: our social connections.
Having social support from family and friends is related to higher self-esteem, better mental health, and lower inflammation among older adults, which can help reduce the risk of chronic conditions such as heart disease.
In one study, it was found that adults with strong social ties tend to live longer than those without, regardless of their socioeconomic status or lifestyle factors like smoking or obesity. It goes to show we all need social connections to thrive, especially as we get older!
Staying Connected in Senior Living
While loneliness may be all too common among older adults, it does not have to be an inevitable part of aging. One compelling reason to move to independent living in a senior living community is to enjoy daily opportunities for social engagement and friendship with others.
Here's a look at a few of the many ways that a senior living community supports strong social connections:
Community activities and events
From the moment a resident moves into their new home in an independent living community, they can participate in a range of fun, enriching activities and events with like-minded peers. Residents make friends and build community through ice cream socials, happy hours, on-campus concerts, outings to local attractions and events, and more. The sky's the limit when it comes to the activities offered in independent living!
When researching local retirement communities, ask to view a calendar of the monthly events and activities scheduled to see what sparks your interest.
Classes and clubs
Hobbies are another great way to stay social while keeping the mind active. In independent living, residents can continue to pursue their passions in areas such as art and music or expand their horizons by learning a new hobby or skill. Residents who love to learn can participate in continuing education classes ranging from history to computer skills. Some communities will even host informative lectures from area experts or even local college professors. Book clubs, cards, games, and puzzles are also popular pastimes for residents, providing plenty of avenues for meeting other people with similar interests.
Support when it's needed
It's a wonderful feeling to know that support is nearby when you need it, and that's exactly what living in a senior living community offers. Not only do residents have access to a large social support system of their peers, but also a team of staff and caregivers dedicated to providing help and support whenever necessary.
For many older adults, spiritual support can be another important aspect of healthy aging. As a faith-based senior living community, Bethany Village provides opportunities for residents to engage in the spiritual experiences that resonate with them, regardless of their personal religion or faith affiliation. Residents can experience connection and fellowship when volunteering, attending worship services or spiritual counseling, or joining prayer and study groups in the comfort of their community.
Be a Part of a Community That Cares
If you're ready to expand your social circle in retirement and enjoy the many benefits of close connections with like-minded peers, now is the time to consider a senior living community. Moving to independent living means you'll be welcomed into a community filled with friendly staff and neighbors who know your name and care about your wellbeing. It's an ideal environment to make the most of your retirement years!
Would you like to learn more about senior living at Bethany Village? Please contact us today. We're happy to answer your questions and provide more information about life in our community.