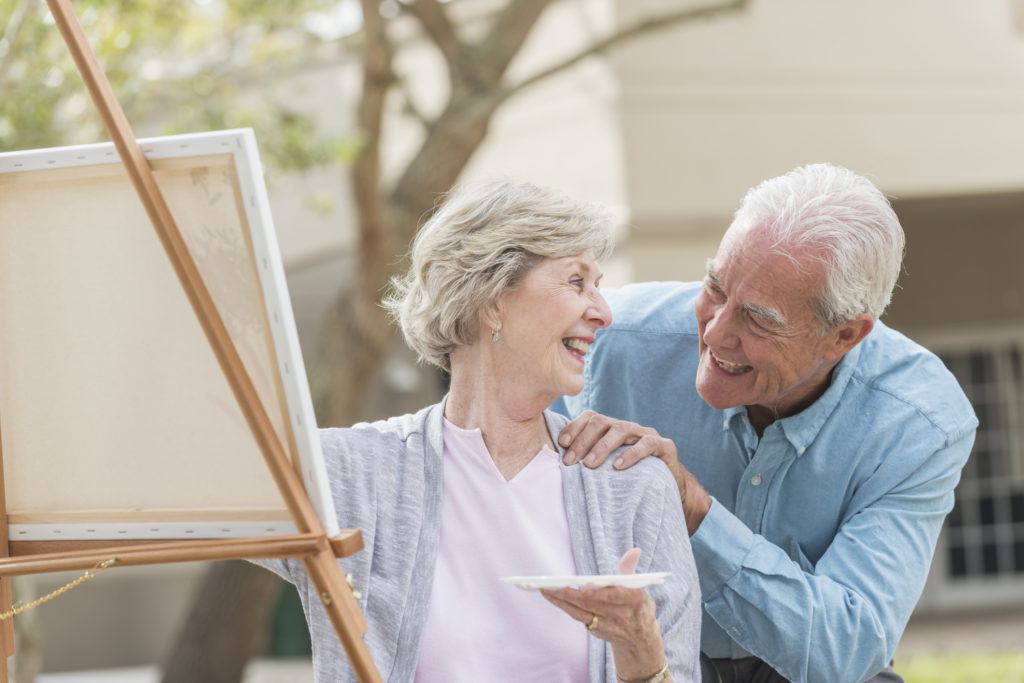 Chances are, you first experienced the fun and freedom of creating art at a young age. As children, art is one of the first ways we learn to express ourselves and explore the world around us. As we get older, our need for the stimulation, joy, and sense of satisfaction that comes from creative expression doesn't fade. We can all benefit from creating, no matter our age or level of artistic ability!
In fact, visual art is frequently used in memory care communities as a way to enhance the lives of residents with Alzheimer's disease and other forms of dementia through a practice called art therapy.
What is art therapy?
Art therapy is a therapeutic practice that combines art and psychology to support individuals' mental, emotional, and behavioral health and wellbeing. Anyone can benefit from art therapy, from young children to older adults. For individuals living with dementia, art therapy provides a meaningful creative outlet and avenue for expression when other forms of communication become more challenging. Art therapists and trained care professionals can facilitate art therapy programs in memory care communities to enrich the lives of residents and help them enjoy a greater sense of purpose, accomplishment, and self-confidence.
What are the benefits of art therapy?
Here's a look at some of the many advantages of art therapy for individuals in memory care communities.
Art therapy stimulates the brain
Art has always been a way to express creativity and emotions through various mediums, from painting and drawing to sculpting with clay. For individuals with Alzheimer's or another form of dementia, participating in art therapy can also be a powerful way to boost cognitive function in different areas of the brain.
While there's currently no cure for dementia, the cognitive benefits of art therapy are apparent. Like other forms of creative interventions like music therapy, art therapy has the remarkable ability to bring memories and stories to the surface. While completing an art project, participants will often experience moments of clarity, contentment, and happiness as they reminisce on their lives.
Art therapy relieves stress
It's an unfortunate fact that individuals with dementia often experience stress, anxiety, depression, and other mental health concerns as their disease progresses. Facing these negative emotions can be even more frustrating for individuals who may find it difficult to communicate their thoughts and feelings verbally.
Through art therapy, participants can express themselves without saying a word. Engaging with creative activities is also known to provide mood-boosting benefits by alleviating stress and leading to greater resilience and fulfillment.
Art therapy helps promote mobility and dexterity
Whether it's holding a paintbrush or shaping clay, creating art involves some degree of movement and fine motor skills. By practicing art regularly, older adults can improve their overall coordination and retain muscle function. In art therapy programs, the projects are always catered to the participant's abilities and interests, and assistance is offered if needed.
Art therapy encourages connection
In memory care, art therapy involves more than creating art; it also provides a meaningful source of social interaction and connection. The trained facilitators leading art therapy programs will initiate conversations during art projects by asking questions and providing encouragement.
Creating art as a group provides a way for individuals to build bonds with caregivers and other participants, helping to reduce isolation and loneliness that can be all too common among those living with dementia. Participating in art therapy may even help individuals with dementia recall memories that strengthen their connections with family members.
Opening Minds Through Art at Bethany Village
At Bethany Village, we're proud to offer Opening Minds Through Art (OMA) for residents in our newly renovated Assisted Living Memory Care community, Pavilion. OMA is a form of cognitive stimulation therapy that builds relationships and sparks memories through one-on-one art projects catered to the interests, preferences, and memory care needs of the resident. The OMA program, combined with our music and pet therapies, all work together to promote the social engagement, dignity, and self-expression of our residents so they can make the most of each day.
Would you like to learn more about Pavilion Assisted Living Memory Care and life at Bethany Village? Please contact us today to request more information. We're always happy to answer any questions you may have!