If you're concerned about the safety of your parent living alone, or if your parent requires more daily assistance than you can provide, it may be wise to begin looking at an assisted living community. In assisted living, residents live independently but receive assistance with daily activities such as medication management, grooming, bathing, and getting dressed.
Researching and touring assisted living communities can be overwhelming for older adults and their families alike. You'll find that there are many locations to choose from, and every community is different!
As you start the assisted living search, asking the right questions can help you narrow down your choices and find the right option for your loved one.
Read on to learn the five questions to ask when choosing an assisted living community.
Is the community non-profit or for-profit?
As you visit different assisted living communities, pay attention to how the facility is operated and funded. The majority of assisted living communities are for-profit, with most being part of large, national corporate chains. Non-profit assisted living communities on the other hand are owned by private groups and are often affiliated with faith-based organizations.
Non-profit assisted living communities are held to the same high standards and regulations as for-profit facilities. But, unlike for-profit assisted living communities, which are revenue and earnings-driven, non-profit communities are guided by an overall mission to serve others. As you compare your options, make sure you read about each community's mission, history, and reputation. It's important to find a community that aligns with your family's values and needs.
How are residents' care needs evaluated?
Before a resident moves into assisted living, the community will conduct an initial assessment of their current health needs to determine the level of care and daily assistance they require.
When researching different communities, ask about their process for evaluating prospective residents' care needs. What does it entail? How often does the community perform assessments of residents once they move in? At Bethany Village, we have licensed social workers on staff to assist older adults and their families through every transition and ensure each resident is always cared for spiritually, mentally, physically, and emotionally.
What kinds of activities and amenities are offered?
Ideally, the assisted living community you choose will offer a full calendar of engaging activities for residents, such as social events and clubs, music and pet therapy, arts and crafts, fitness classes, and learning opportunities. When researching assisted living communities, ask to view a calendar to see if the activities they offer match your loved one's interests.
In addition to fun daily activities, today's assisted living communities have a variety of modern amenities to make life easier for residents. Look for a community that has convenient on-campus amenities and services available like physical therapy and fitness activities, transportation to doctor's appointments, and beauty salons and barbershops.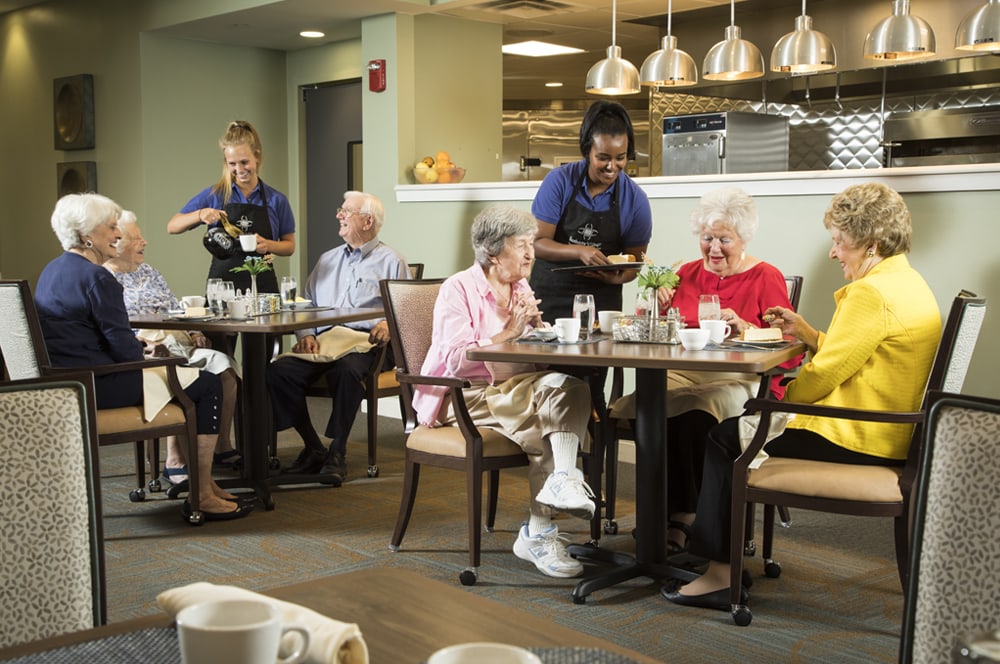 What dining options are available?
One of the biggest benefits of assisted living is that older adults no longer have to worry about the hassles of grocery shopping, planning healthy meals, and cooking for themselves. At Bethany Village, our assisted living residents look forward to healthy, fresh, nutritious chef-prepared meals every day, with snacks available between mealtimes. We also support medical and nutritional special diets supported by an on-staff nutritionist.
As you tour assisted living communities, pay attention to the different dining venues available. What's the atmosphere like? Is dining an enjoyable, social experience for residents? Ask to see a sample menu or, if possible, stay for a meal.
What happens when a resident needs more care?
Planning for the future is critical for families because you never know how or when a loved one's health needs may change. It's important to find out how the assisted living community will approach the situation if your loved one needs services such as nursing or memory care in the future.
The advantage of choosing a continuing-care retirement community (CCRC) like Bethany Village is that the full continuum of care is available on one campus, including independent living, assisted living, skilled nursing, memory care, and an on-site medical rehab center. This means as your loved one's needs change, they can transition to the next level of care without leaving the familiarity of the community they call home. For families, knowing their loved one will be cared for no matter what the future holds provides priceless peace of mind.
Choosing an Assisted Living Community near Dayton
Making the right choice in an assisted living community will take time. Don't hesitate to ask plenty of questions and take multiple tours as you compare your options and determine the best fit for your family.
When you're ready to begin the search for assisted living for a parent or older loved one, Bethany Village is ready to help. Contact us today in Centerville—we'll be here to answer your questions every step of the way!