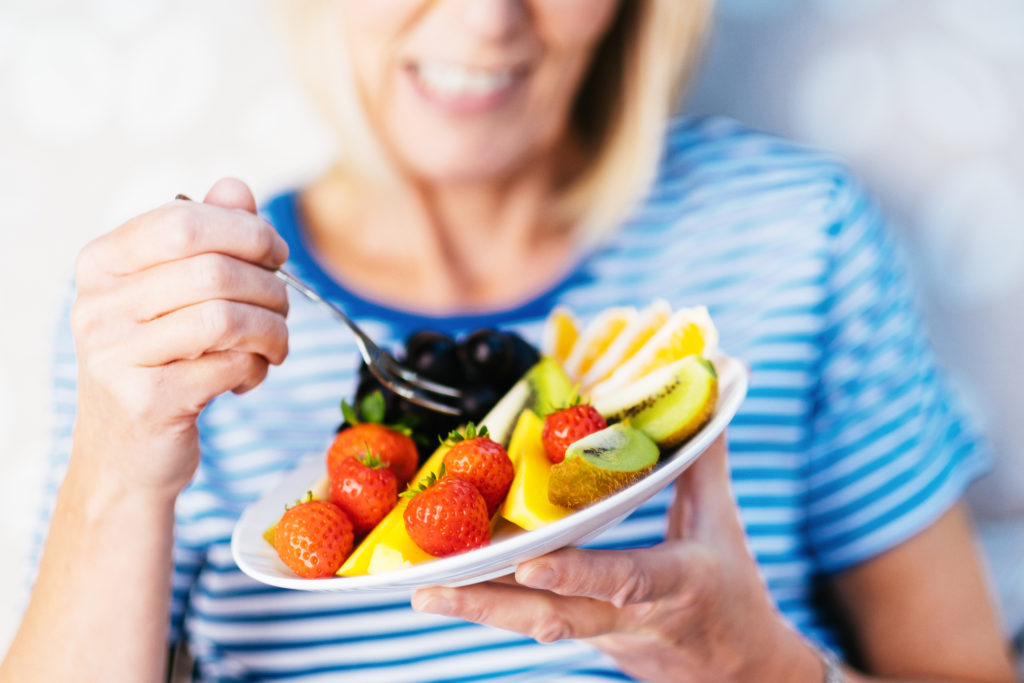 Eating a well-balanced diet is an essential part of healthy aging, but sometimes it's easier said than done. It's natural for many older adults to experience changes to their sense of smell and taste, which can lead to a reduced appetite or a lack of interest in certain foods. But even though we need fewer calories as we get older, we still need to choose foods that provide a high nutritional value.
One healthy eating tip is to make your plate look like a rainbow at each meal, filling it with a variety of vibrant fresh foods. Because many colorful fruits and veggies reach peak ripeness in the spring and summer months, now is a great time to experiment with different options and incorporate more color into your diet!
Here are some ideas to help you "eat the rainbow:"
Red foods: Reach for red berries like raspberries and strawberries, as well as apples, grapefruit, watermelon, tomatoes, and red peppers. These fruits and veggies are chock-full of nutrients like vitamin C as well as heart-healthy antioxidants. For a quick and easy breakfast, try adding berries to oatmeal or cereal.
Orange and yellow foods: Carrots, sweet potatoes, bananas, pineapple, squash, and of course, oranges are all a great source of vitamin A. These foods also help fight inflammation and support heart and eye health.
Green foods: When it comes to green vegetables, there are plenty of options to choose from! Dark leafy greens such as kale and spinach are considered "superfoods" because they provide a variety of health benefits. In particular, dark leafy greens are known to support bone health and help prevent osteoporosis. Cruciferous veggies, like broccoli and cabbage, have also been found to help lower the risk of cancer and heart disease. Try adding greens to soup, pizza, or pasta dishes. You can also mix green veggies like kale and avocado into a fruit smoothie—you won't taste the difference!
Blue and purple foods: Richly-hued foods like blueberries, blackberries, elderberries, grapes, plums, and eggplant are bursting with powerful health benefits! The antioxidants found in many blue and purple foods are good for the circulatory system and may help to improve brain function as we get older.
White foods: When we think of white foods, we tend to picture less-healthy options like bread, pasta, and cereal. But there are many healthy white and beige veggies you can include in your diet. Cauliflower, onions, mushrooms, white potatoes, and turnips each offer rich flavors and various nutritional benefits. Many of these veggies are also a source of fiber, which helps us feel full and satisfied after a meal.
Delightful Dining in Retirement
Among the many benefits of independent living is the delicious and nutritious dining options available to residents. At Bethany Village, our independent living residents may cook some or all meals at home, but many choose the convenience of our dining areas where they enjoy chef-prepared dishes and conversation with neighbors and friends from across our campus.
Bethany Village's culinary team creates meal plans that are diverse, well-balanced, and, most importantly, tasty. With a registered dietitian on staff, we ensure that every meal we serve meets residents' nutritional requirements as well as their expectations for quality and taste.
Would you like to find out more about the dining experience at Bethany Village? Please contact us today to learn more about our residential living options and schedule a tour of our beautiful campus!