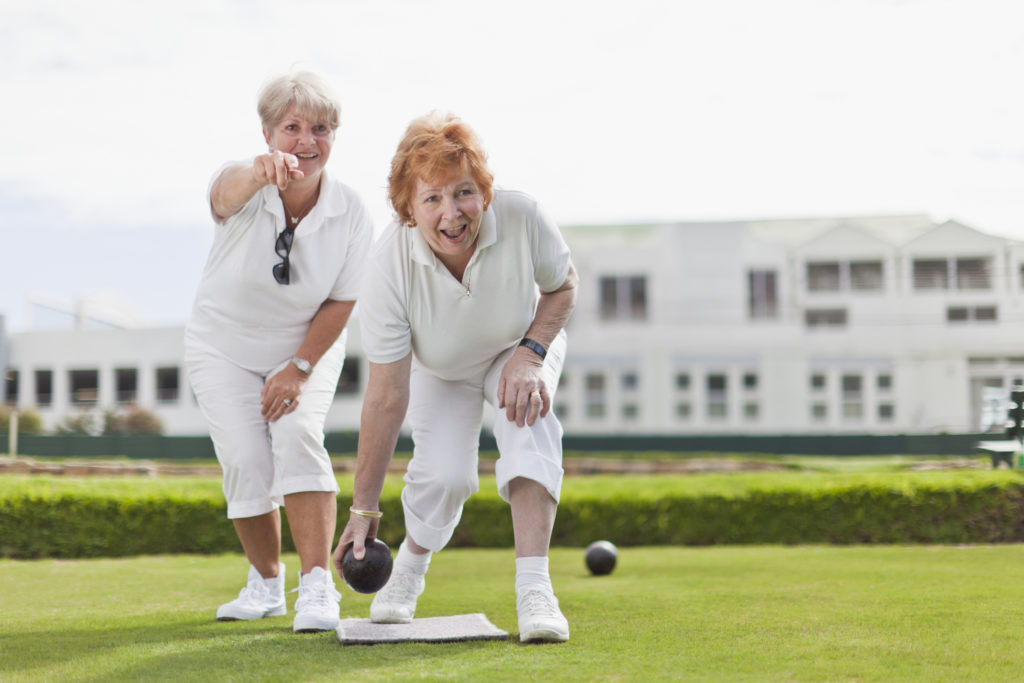 You don't necessarily need to visit a gym to enjoy the benefits of fitness! As the weather warms up, there's no better time to shake up your routine and stay active while enjoying the sunshine.
In general, it's recommended that seniors get 30 minutes of exercise a day to stay healthy and promote mobility—but even 10 minutes of movement can make a difference! If you're new to fitness, be sure to talk to your doctor first and start slow.
When you're ready, here are five easy ways to get moving this spring:
#1: Add more steps to your day
You've probably heard it before: Walking is great for you! But going on a long walk every day can seem intimidating, especially if you're easing back into a fitness routine. Instead, try to incorporate shorter walks throughout your day!
For example, take a brief stroll after lunch or dinner. When running errands, park a little farther away from the store's entrance. During TV commercials, march in place or walk around the house. Listen to an audiobook or call a family member while walking around the block. You'll see that there are many ways to "get your steps in" without a huge time commitment.
#2: Try a low-impact sport
Enjoy some fun and friendly competition with a low-impact outdoor sport such as golf, tennis, pickleball, badminton, shuffleboard, or bocce ball. Playing a senior-friendly sport is also a great way to stay social and meet new people!
#3: Boost body strength
Strength is an important part of overall health, no matter our age. Also referred to as resistance training, strength training helps to keep your bones and muscles strong while preventing falls and promoting better mobility. There's no need to worry about lifting the heaviest weights. You can add strength training to your routine using items from around your house, like water bottles or soup cans. Resistance bands are also great alternatives to dumbbells because you can focus on learning the correct form.
#4: Set reminders to stand
Too much sitting isn't good for anyone, and a sedentary lifestyle can be especially serious for older adults. On average, older adults over age 60 spend nearly ten hours a day sitting! It can help to schedule reminders to stand up and walk around every hour or so. You can use a regular kitchen timer, a smartwatch, or even a home speaker system to help motivate you to get moving.
#5: Take a group exercise class
Joining a fitness class is one of the best ways for beginners to get into exercise. You'll learn the proper movements from an instructor in a safe environment while enjoying the fun, social aspect of exercising with others. Group fitness classes are highly popular in senior living communities because residents can meet their fitness goals and make new friends at the same time.
At Bethany Village, we offer an array of fitness classes to accommodate any pace and lifestyle. From light, chair-based exercises to fast-paced aerobics and dynamic strength training classes, there's something for everyone! Our state-of-the-art Fitness Center also features free weights, strength-training machines, treadmills and recumbent steppers and bikes.
Let's get moving together!
Ready for more fitness tips? Join us for our next Facebook Live event: Step into Spring on Wednesday, April 21st, 2021, at 1:00 p.m.
Alex Sheets, Bethany Village's Lead Exercise Specialist, will provide a virtual tour of our Fitness Center and demonstrate a few easy exercises you can do right at home. Tune in, and let's step into spring together!