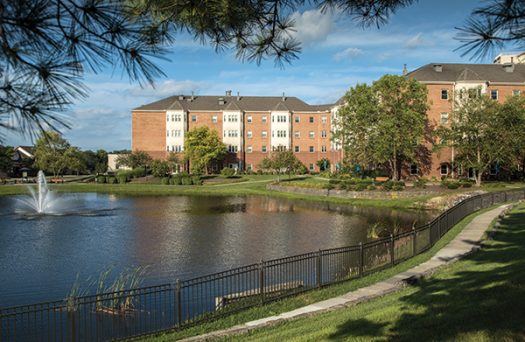 "Study nature, love nature, stay close to nature. It will never fail you."
— Frank Lloyd Wright
If you've ever experienced a feeling of bliss when you step into a beautiful garden or tree-filled park, then you know just how rejuvenating it is to be surrounded by nature.
While getting outside and enjoying nature is important for people of all ages and walks of life, it can be especially beneficial as we get older and tend to spend more of our time indoors.
Here are five great reasons to enjoy the great outdoors today:
Enhance mental wellbeing
Spending time in nature is linked to more positive feelings and lower levels of stress, anxiety, and depression. If you could use a mood booster, try reconnecting with the outdoors by taking a walk, dining "al fresco," or simply opening a window to admire the view.
Improve focus and mental energy
Nature has a soothing effect that helps to distract us from worry and negative thoughts. Spending time surrounded by nature's beauty can also help to restore our minds from mental fatigue and brain fog. Even if you can't get outdoors, just looking at pictures of nature may help!
Sleep better
Being outdoors may also help improve sleep quality by syncing the body's internal "clock" with natural light and dark cycles. This can be particularly helpful for older adults who have difficulty falling asleep and staying asleep throughout the night.
Stay active
Getting outside is also a great way to help older adults feel more energized and active. If you're feeling tired or sluggish, take a short walk or sit outside for a few minutes.
Increase levels of Vitamin D
Older adults are at risk for low levels of vitamin D, which may lead to inflammation and pain in muscles and bones. The good news is that it only takes 15 minutes of sunshine exposure to help your body produce the recommended daily dose of vitamin D. Just be sure to wear sunscreen as you're soaking up the sun!
Vitamin D is also directly related to an improved immune system, which protects the body from viruses and other threats. Time in nature has even been studied as a way to help people recover more quickly from an injury or illness.
Creating natural spaces in Retirement Living
At Bethany Village, we understand the importance of providing natural environments for the health and wellbeing of our residents, ensuring they never need to travel to be surrounded by the beauty of nature! Our 100-acre retirement community features thoughtfully-designed walking trails and well-maintained landscaping with flowers, trees, and the beautiful Reflection Lake. Many of our independent living residents enjoy being immersed in nature during daily walks around our campus with neighbors and friends. Come take a tour of our 100-acre campus, schedule your tour today.