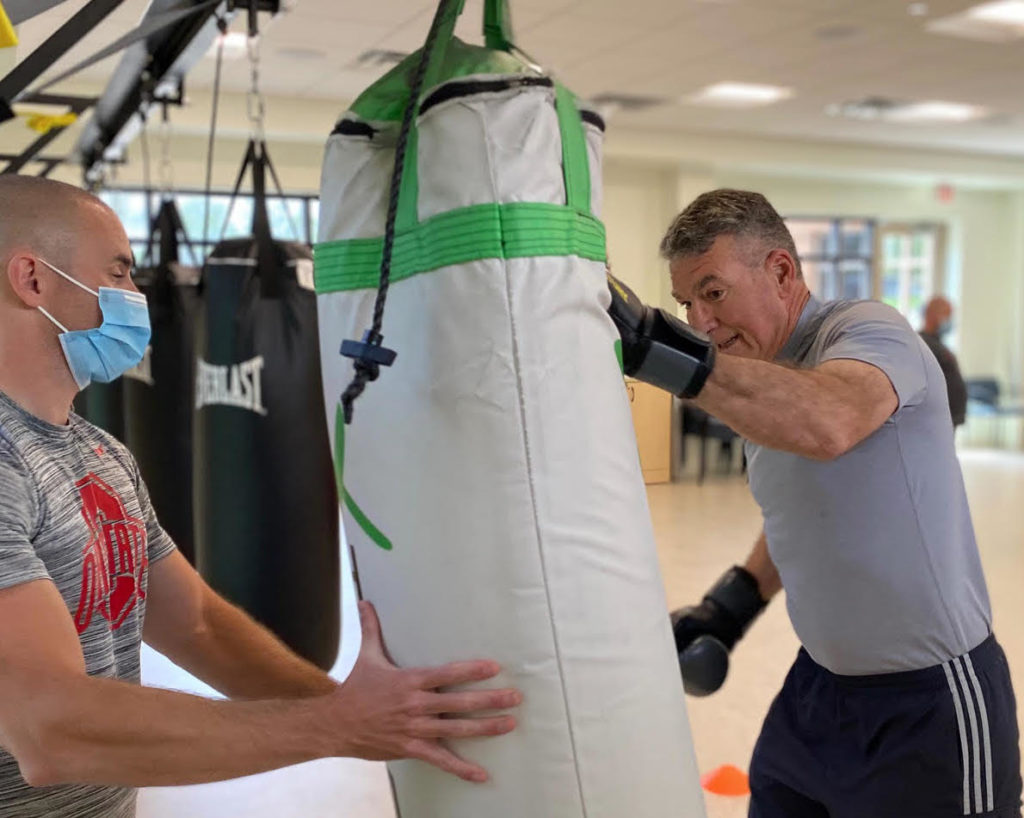 Parkinson's disease is a complex condition. While many people recognize the disease by its name, there are still myths and misconceptions surrounding the nature of Parkinson's and the interventions available to help improve quality of life for those with a diagnosis, such as Rock Steady Boxing.
What is Parkinson's disease?
Nearly one million people in the U.S. are living with Parkinson's disease, a neurodegenerative disorder characterized by the deterioration of motor function caused by the gradual loss of dopamine-producing brain cells. Although most people with Parkinson's first develop symptoms around the age of 60, an estimated four percent of people are diagnosed before the age of 50, according to the Parkinson's Foundation.
What are the symptoms of Parkinson's?
The signs and symptoms of Parkinson's develop slowly over the years and often differ from person to person. The most easily recognizable symptoms include a combination of tremor, limb rigidity, gait and balance issues, and bradykinesia (slow movement). It's also important to note that Parkinson's is more than a movement disorder. It can also impair cognitive function and lead to difficulty with speech, chewing, and swallowing as well as sleep problems, loss of sense of smell, apathy, and depression. As the disease progresses, it can become increasingly more difficult to carry out everyday activities and tasks.
Helping people with Parkinson's live well into the future
While there is currently no cure for Parkinson's disease, there are now numerous therapies, treatments, and interventions available to help those diagnosed with Parkinson's live an enhanced quality of life. One of the most innovative exercise intervention programs for individuals with Parkinson's is Rock Steady Boxing.
All about Rock Steady Boxing
Developed in 2006, Rock Steady Boxing is a non-contact boxing class specifically for those with a clinical diagnosis of Parkinson's disease. It allows participants to literally fight back against the symptoms of Parkinson's while helping to ease rigidity of movement and improve strength, coordination, balance, mental focus, and confidence.
Just like in a traditional boxing class, participants in Rock Steady Boxing wear boxing gloves, hit heavy bags and speed bags, and do shadow boxing. They also practice balance and functional mobility exercises such as getting up and down from the ground or a chair, high-knee stepping, twisting or turning movements, walking, and flexibility exercises.
Voice activation is another important part of Rock Steady Boxing. Participants are encouraged to yell and shout as they exercise, which helps mitigate the effects of speech impairment often caused by Parkinson's. The Rock Steady Boxing method challenges participants to push themselves in a safe environment, which can result in dramatic improvements after just a few weeks of training.
Most importantly, Rock Steady Boxing participants have fun, build self-esteem, and enjoy a sense of teamwork and camaraderie with others in their class. It's an empowering way to combat a disease that aims to take control away from individuals.
At Bethany Village, we're proud to host a Rock Steady Boxing class that is open to anyone in the Dayton area with a clinical diagnosis of Parkinson's, regardless of age. We offer two levels of classes depending on the stage of the disease and physical capabilities of the participant, and residence at Bethany Village is not required to participate.
See Bethany Village's Rock Steady Boxing program in action!
If you'd like to learn more about Rock Steady Boxing at Bethany Village, mark your calendar to watch our next Facebook Live on Wednesday, July 21st at 2:00 pm. Alex Sheets, Lead Exercise Specialist and Rock Steady Boxing coach at Bethany Village will demonstrate some of the exercises and provide a virtual tour of our state-of-the-art fitness center.
For more information about joining Bethany Village's Rock Steady Program, please call (937) 949-0783. We'd be happy to speak with you and answer any of your questions!