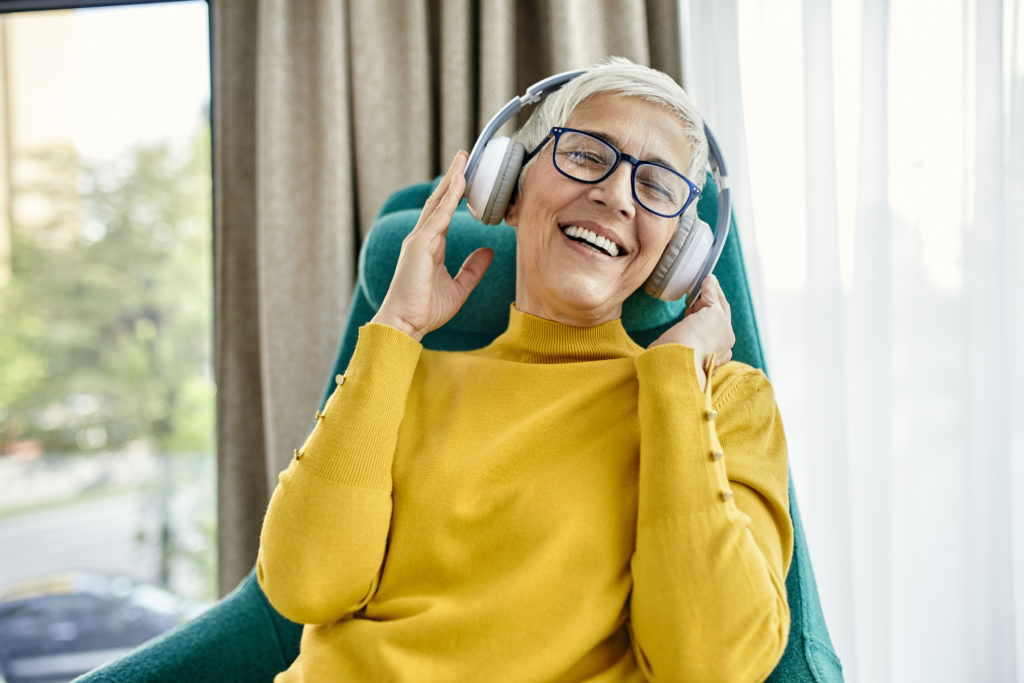 There's no denying that music is powerful. Hearing just a few notes of a familiar song can transport us back in time, stir up emotions, and evoke memories from the past. This is why music therapy is so effective for older adults with Alzheimer's disease or other forms of dementia.
In memory care settings, music therapy involves a variety of musical activities such as listening to music, making music, and moving to music. Participating in a music therapy program not only helps to address cognitive issues but it can also improve an individual's physical, emotional, and social wellbeing.
Here's a closer look at some of the remarkable benefits of music therapy in memory care:
Improve communication
Music therapy provides a meaningful way for those in memory care to connect with others and express themselves, even if their speech and language skills are declining. In addition to listening to music, individuals are encouraged to sing, hum, and clap along to well-known tunes. Individuals who were nonverbal may even begin to communicate again and express their emotions when music is playing.
Reduce stress and anxiety
Along with memory changes, people with dementia or other memory issues often experience feelings of stress, anxiety, and agitation, sometimes leading to aggressive behaviors. Music has the amazing ability to help ease these feelings and provide mood-boosting benefits. Simply listening to calming music can lower the body's levels of cortisol, the hormone that contributes to feelings of stress and anxiety.
In memory care, music therapists will select songs with specific instruments, rhythm, and lyrics to elicit positive emotions and make participants feel comfortable and relaxed. Music can be particularly beneficial in addressing sundowning, which occurs when those with dementia or other memory issues become confused, disoriented, and agitated in the evening hours. Playing soft, slow songs such as lullabies can help individuals wind down for the night and prepare for bedtime.
Promote movement
Another big benefit of music is that it inspires movement. Physical activity is essential at any age to keep the mind and body active, and individuals living with memory conditions can significantly benefit from moving along to music. During music therapy, participants enjoy easy movement by playing simple musical instruments like maracas, drums, or tambourines. Additionally, movements such as clapping, tapping feet, and dancing are encouraged in music therapy.
Explore the Benefits of Music Therapy at Bethany Village
Evoking memories, improving communication, reducing stress and anxiety, and promoting movement are just a few of the many important reasons music therapy is so important for older adults in memory care communities.
At Bethany Village, we are proud to have a full-time certified music therapist on staff who works extensively with residents at Pavilion, our newest Assisted Living Memory Care Community. This innovative music therapy program provides powerful benefits to residents living with Alzheimer's or other memory-related conditions.
For more information about life at Bethany Village and our music therapy program, please contact us.