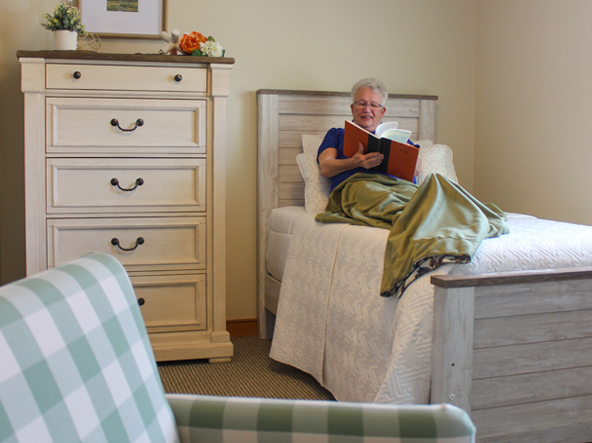 Are you the primary caregiver for an aging parent or loved one? If so, you're not alone. More than one in five American adults — 53 million in total — provide unpaid care for a family member, assisting with everything from transportation to grooming, dressing, and medication management.
Being a caregiver is a significant commitment of time and energy. It can be draining — physically, mentally, and emotionally — unless you give yourself breaks now and then. If you're overdue for some well-deserved time away from caregiving, it's time to consider the benefits of respite care.
What is respite care?
Respite care is designed to give caregivers temporary relief from their caregiving responsibilities. When provided by an assisted living or memory support community, respite care provides a safe, caring place for older adults to stay for a short period of time. As a caregiver, you can rest assured that your loved one will receive the best quality care from specially-trained staff while you get a chance to rest, recharge, and focus on other aspects of your life.
Here are some of the top benefits of respite care:
Prevent caregiver stress and burnout
Caregiver burnout is a serious concern for those providing care to an older loved one. Signs of caregiver burnout include extreme fatigue, high levels of stress, anxiety, and depression. If left unchecked, caregiver burnout can cause a host of negative outcomes, including hindering the ability to provide proper care for your loved one. As a caregiver, remember that it's not selfish to step away and take a break. After all, in order to be the best caregiver you can be, you must look after your needs, too.
By setting up a respite care stay for your loved one, you'll free up your schedule to travel, reconnect with friends, or simply relax and recharge. No matter how you choose to spend the time, being able to take a much-needed break will help keep stress and burnout at bay.
Step outside the caregiver role
It's common to experience a loss of identity when caring for a family member full-time. Seeking a respite care stay for your loved one gives you time to step outside the role of caregiver and rediscover your interests and passions.
A respite care stay can also help to restore the balance in your relationship with your loved one. When you spend the majority of your time with someone, it's natural for feelings of tension or even resentment to build over time. Taking regular breaks will allow both you and your loved one to have some time apart and maintain a healthy, positive relationship.
Experience life in assisted living
Many families use a respite care stay as a "trial run" before deciding to move to an assisted living community. As a caregiver, this can give you the chance to get to know the staff and see if the community is a good fit for your loved one.
For your loved one, it's an opportunity to experience life in an assisted community firsthand. During their respite care stay, they'll have access to the same quality care, living arrangements, food, amenities and activities offered to full-time residents in the community. They'll enjoy a change of scenery, while being able to interact with staff members and get to know some of the residents. Participating in day-to-day life in assisted living may even help convince previously skeptical older adults to make the move sooner rather than later, easing the transition for everyone involved.
Turn to Respite Care. Turn to Bethany Village!
Don't wait until caregiver burnout sets in to schedule a short-term respite care stay for your loved one. You deserve to take a break, and your loved one can benefit from the quality care, engaging activities and opportunities for socialization provided in an assisted living community!
At Bethany Village, we're proud to offer short-term respite care stay options for older adults needing daily assistance or memory care support. During a respite care stay at Bethany Village, your loved one will have access to the same personal care, services, and support as our full-time assisted living and memory care residents. They will also enjoy our convenient, five-star amenities including chef-prepared meals, snack bar, fitness center, and movie theatre, as well as fun, engaging activities with other residents.
To learn more or arrange a respite care stay at Bethany Village, please contact us today. We would be delighted to speak with you and answer your questions!