The busy holiday season is upon us! While many people look forward to the holidays, "the most wonderful time of year" is often a major source of stress and worry. If you're the primary caregiver of a senior loved one, there's no better time to take advantage of the convenience of at-home health care services.
As you start making your holiday plans, take a look at some of the many ways home health care services can benefit your family this season — and all year round:
#1: Stay home for the holidays
Many seniors would prefer to "age in place" in the living situation of their choosing, and their desire to remain at home can be especially strong during the holiday season. After all, there's no place like home for the holidays! Home is where cherished holiday memories are made and traditions are shared with family and friends. By choosing at-home health care, your loved one will receive the care and support they need in their own home, where they feel most comfortable and secure.
At-home health care is designed to help seniors lead a safer, healthier, and more independent lifestyle. It can be provided wherever a senior calls home, whether that's a family home or an independent living residence. At-home health care is personalized to an individual's needs and goals, offering services ranging from assistance with activities of daily living to medication management and necessary medical care and therapy for seniors recovering from an illness, surgery, or injury.
Home health care services are available year-round, but they can be especially helpful during the holidays. Because seniors are particularly vulnerable to the flu, colds, and other illness that peak in the winter months, home care can also be a smart solution to limit potential exposure at clinics or hospitals, stores, and other public places.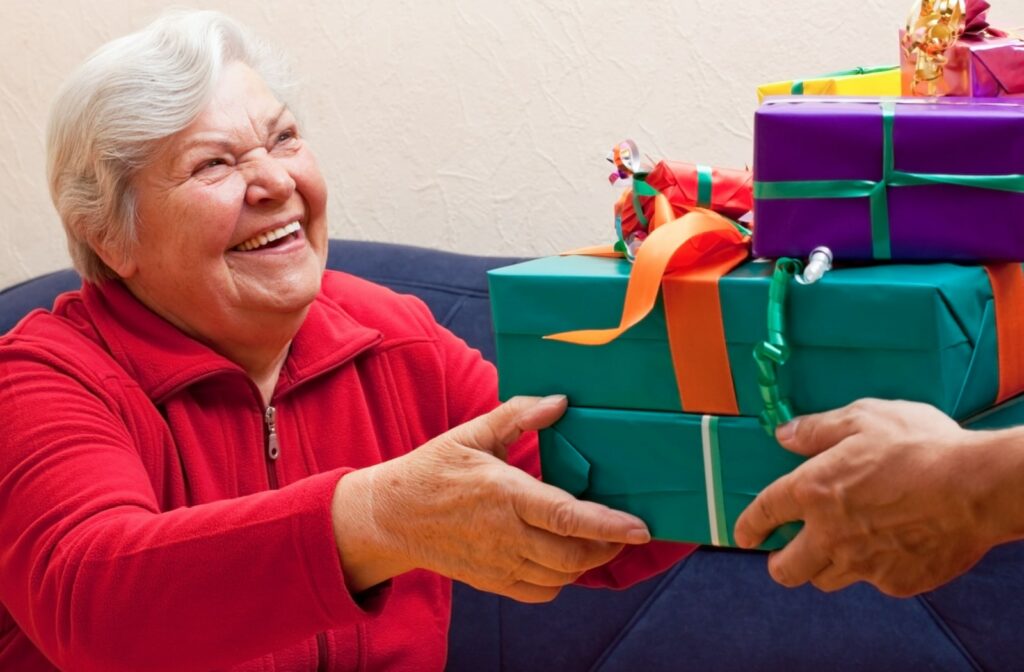 #2: Free up more time for festivities
As a caregiver, you already had plenty on your plate before the holidays arrived. Seasonal activities that were meant to be fun and festive — baking, shopping for gifts, and attending holiday parties — can become hectic when you're also busy caring for a senior loved one.
By seeking help from an in-home senior health care provider, you'll instantly free up more time and energy for holiday preparations. Instead of feeling burdened by everything you have to do, you can make the most of your time with your loved one and focus on enjoying the holiday magic together.
#3: Beat the winter blues
The holidays are meant to be joyful, but this time of year isn't easy for everyone. Loneliness, social isolation, and depression are serious problems among older adults, and these feelings can be amplified during the winter months when people tend to spend more time indoors. The winter blues can be particularly challenging for seniors over the holidays, which may bring up bittersweet memories of celebrations with loved ones who have since passed.
If you're worried about a senior loved one's emotional wellbeing this holiday season, consider the benefits of at-home companionship care. Even if they only visit for a few hours a week, the presence of a companion caregiver can help lift your loved one's spirits and provide much-needed social support. In addition to social interaction, in-home senior companionship care may include a range of non-medical services to make daily tasks easier for your loved one and improve their quality of life, such as light housekeeping and laundry, grocery shopping, and meal preparation.
Bethany Village Care in the Comfort of Home
If you're looking for local at-home health care services for a senior loved one this holiday season, look no further than Bethany Village Home Health Care, which provides skilled nursing and therapy services right in a senior's home. Bethany Village Home Health Care staff members are expertly trained on the best senior care approaches and support services, just like the staff at Bethany Village. Whether your loved one needs help a few hours a day or a few hours a week, our experienced staff and caregivers will deliver Faithful Caring in the comfort of home.
Contact us today to learn more about our home health care services for seniors in the Dayton area. We'd love to lend a helping hand this holiday season!