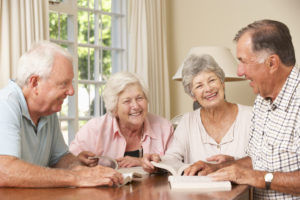 Deciding to move to a retirement community can feel exciting and overwhelming at the same time. On the one hand, retirees can look forward to an easier-to-manage living space with access to convenient amenities and services all in one community.
But starting a new chapter of life in a new environment can also be nerve-wracking, especially if it's been a while since you last moved. Many retirees worry about leaving the familiarity of their neighborhood and wonder how they'll meet new people and make friends. While understandable, these worries shouldn't stop you or a loved one from choosing a retirement community!
The truth is that moving to an independent living community actually increases opportunities for socialization and making meaningful connections with like-minded peers. Today's retirement communities are designed to combat loneliness and isolation by making it easy for residents to interact with one another and foster lifelong friendships.
If you're thinking about making the move to retirement community living, we have a few helpful tips for making friends as you get settled in.
#1: Get involved
One of the biggest advantages of moving to an easy-to-maintain independent living residence is that you can say goodbye to time-consuming home and lawn maintenance. This means you'll have the freedom to spend your days as you choose and engage in the hobbies that bring you joy. Every day in an independent living community offers the opportunity to participate in fun and engaging activities ranging from book and card clubs to art classes, music concerts, lectures, scheduled holiday celebrations, and happy hours. There's always something to do with fellow residents who share common interests!
#2: Check out a fitness class
Exercising with others is a great way to work on your health and fitness goals and meet others at the same time. At Bethany Village, all our independent living residents enjoy convenient access to our state-of-the-art Fitness Center, which is one of the most popular locations on campus. You could join other residents in an aerobics or strength training class or create your own routine using free weights, treadmills, recumbent steppers and bikes, and strength training machines. If you prefer outdoor activities, many independent living communities also have walking clubs to encourage socialization and movement!
#3: Think of dining as a social activity
While independent living residents have the option to cook some or all of their meals at home, many residents enjoy the convenience of delicious, chef-prepared meals in vibrant community dining settings. Nothing brings people together more than food, and lively conversations around the dinner table provide a natural way to break the ice and make new friends!
Independent Living: Where new friends and experiences abound!
Moving to a retirement community may seem intimidating at first, but be patient, keep smiling, and take time to get to know your neighbors. Before long, you'll be making friends that you feel like you've had forever!
Ready to learn more about independent living at Bethany Village? Get in touch with us today to request more information and schedule a tour.