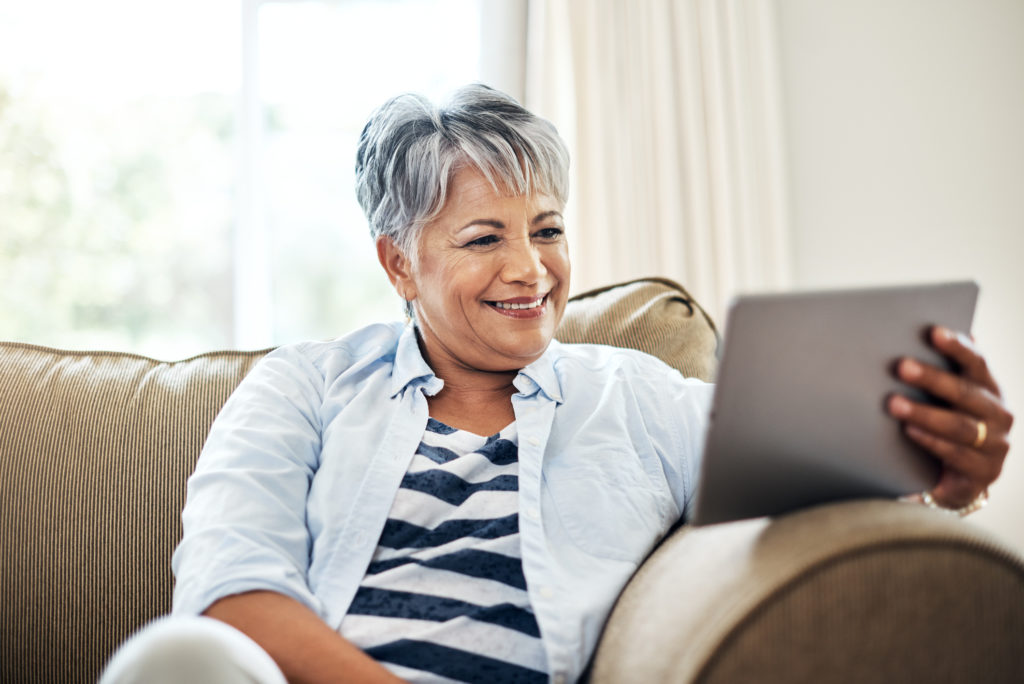 There's a widespread belief that seniors are reluctant to try new forms of technology. This isn't necessarily true! Many older adults are willing to adopt new tech gadgets, especially if they offer them value and are designed with their needs in mind.
As the pandemic continues to shift many aspects of life online, older adults are becoming even more tech-savvy. According to an AARP tech survey, adults over 50 are adopting new technologies such as smartphones, wearable devices, and smart home technology at about the same pace as 18-49-year-olds. This has led to a greater demand for "silver tech," or technology made specifically for seniors.
Today, let's take a look at some of the ways emerging technology can help older adults live more active, independent, and healthier lives:
Connecting with friends and family
One of the top reasons seniors have embraced technology is to keep in touch with friends and family, no matter where they live. Especially during the pandemic, video calling is an important part of daily life for all of us!
For older adults who are less familiar with using smartphones, tablets, and computers, voice-controlled smart home assistants provide an easy and accessible way to communicate with long-distant loved ones. These devices can also be used for telehealth appointments at times when an in-person doctor visit isn't feasible. Some devices even offer the ability for loved ones to check on senior loved ones from afar using "drop-in" video calling.
Staying entertained
Today's handheld digital devices offer endless entertainment to help us beat boredom. From games and puzzles to music, movies, and ebooks—there's something for everyone! For entertainment purposes, tablets are among the most popular devices because they're lightweight and highly portable. Some tablets even have senior-friendly features to make them easier to use, such as large text and icons, sound adjustability, magnification tools, and bigger buttons.
Monitoring health and fitness activity
These days, there are many fun, easy-to-use gadgets available to help people of all ages stay physically active. For example, wearable devices like smartwatches can help you set fitness goals and keep track of your heart rate, daily steps, and overall fitness level. There are also a variety of apps that offer exercise classes on-demand, making fitness fun and motivating. One popular virtual fitness activity at Bethany Village is Wii bowling. Our residents even competed in friendly tournaments with retirement communities across the country!
Maintaining independence, safety, and security
Technology can also help enhance safety and security, which is especially important for older adults living alone. Integrating home security monitoring systems such as doorbell cameras and movement sensors provide a greater sense of security for seniors, as well as reassurance for their families. In addition, personal alert devices are more accurate and discrete than ever before. In the event of a fall or emergency, older adults can call for help with the press of a button on a small pendant or wristband. Some devices can even automatically call for assistance if a fall is detected.
If you're concerned about an older loved one living alone, a retirement community can provide the ultimate peace of mind. Keeping residents safe and secure is always the top priority at Bethany Village. We utilize advanced technologies, including emergency call and response systems and 24/7 campus security monitoring to ensure our residents stay safe and enjoy an independent lifestyle.
As you can see, the benefits of technology for seniors are far-reaching! Best of all, new devices and gadgets are coming out all the time to help people live safer, healthier, and more independent lives. It's well worth exploring some of these ideas to see what works for your family!