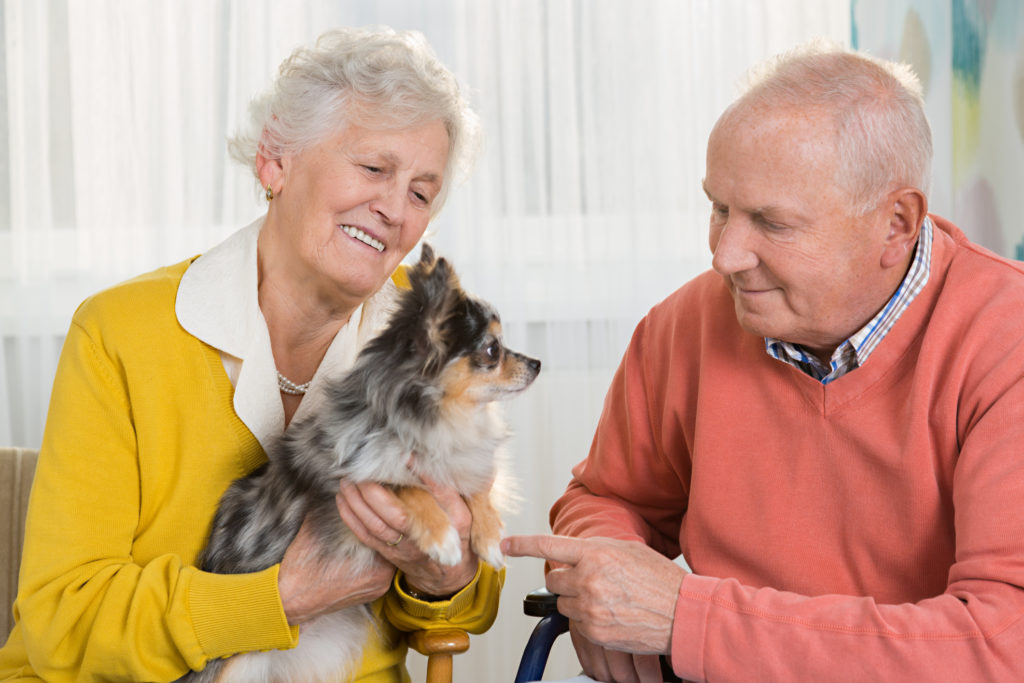 Pets fill a very special role in our lives, providing companionship, joy, acceptance, and unconditional love. Interaction with animals can also offer significant mental, physical, and emotional health benefits for people of all ages, particularly older adults. Today, let's take a look at the mutually beneficial relationship between pets and seniors.
Pets and Health
If you've ever felt your stress melt away while petting a furry friend, you know about the positive benefits of bonding with animals. In fact, research shows that just 10 minutes of petting a cat or dog prompts the release of "feel good" hormones while lowering levels of stress hormones. Other studies have found that interacting with dogs can help to lower blood pressure and heart rate levels, which reduces the chances of heart disease and stroke.
Caring for a pet can also help older adults stay active and independent in retirement. Daily tasks such as taking walks or playing, cleaning up messes, and dishing out food help pet-owning seniors stay busy and maintain better mobility. More opportunities to socialize is another top benefit of pet ownership for seniors. For example, walks around the neighborhood or trips to the dog park can naturally facilitate friendships with neighbors and other animal lovers!
Choosing a Pet
When it comes to choosing a pet, it's important to find a companion that matches your personality and lifestyle. For example, many older adults are happier with a lower-maintenance adult dog or cat rather than a high-energy puppy or kitten. Other easy-going pet options include birds, rabbits, and fish. Before making a decision, carefully consider the time, energy, and effort you can commit to owning a pet.
Pets in Retirement Living
After recognizing the incredible benefits of pet ownership for older adults, many of today's independent living communities are now pet-friendly and allow residents to bring a small dog or cat as long as they meet the community's criteria.
Some retirement communities, including Bethany Village, even offer pet therapy programs for assisted living and memory care residents. Licensed pet therapy animals such as dogs, cats, and rabbits are well-trained and friendly, giving residents the chance to bond with an animal without the daily responsibility of taking care of a pet.
If you're thinking about making the move to a pet-friendly independent living community or retirement community that offers pet therapy, we invite you to explore the benefits of Bethany Village. For more information, fill out our contact form or call (937) 433-2110.