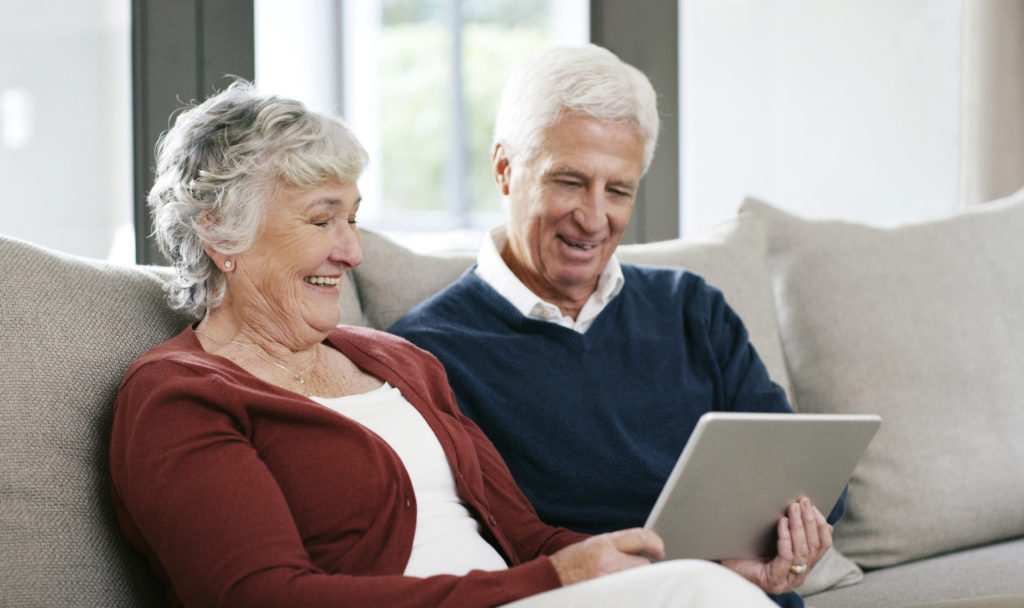 Humans are social creatures. Our relationships with friends and family provide emotional support, helping us build resilience, reduce stress, and boost happiness. People with strong social ties have even been found to live longer and have fewer health problems.
It's clear that we all rely on social connections — especially as we get older. Seniors are at an increased risk for loneliness and isolation, and the risk is even greater for those living alone. That's why it's so important to keep in touch with our older loved ones!
Even if you're too far away to visit or social distancing measures are put into place, you can still maintain a strong relationship with the older loved ones in your life. Take a look at these creative ways to stay connected despite the distance.
Connect through technology
Throughout the pandemic, it's become apparent how valuable technology can be in helping us communicate with friends and family. Luckily, there are a number of easy-to-use tools, apps, and services you can use to keep in touch with older loved ones.
Phone calls — A short phone call can be just as sweet as an in-person visit. You can always call "just because," but scheduling a day and time to chat will give both you and your loved one something to look forward to!
Video chats — Zoom, Skype, FaceTime, and other video conferencing tools make it easy to have face-to-face conversations while distanced. To make video calls even more fun, try one of these creative ideas:
Have a virtual book club. Read the same book and discuss it together. Or, get the grandkids involved for a virtual storytime session!

Share a meal. Schedule your call during lunch or dinner and enjoy a meal at the same time.

Watch a show or movie together. You can set up a viewing party using a streaming service and watch a favorite TV show or movie together.
Smart home devices — Many of today's smart home devices include video calling capabilities. With a simple voice command, you can check-in on older loved ones and vice versa.
Social media — Social media provides a powerful way for seniors to stay connected to the important people in their lives and even rekindle old friendships. Older adults over 55 are actually the fastest-growing demographic of social media users!
Digital photo frames — A digital frame makes it easier than ever to share family photos. These devices display hundreds of pictures and videos in a slideshow format. You can load a flash drive or send photos directly from your smartphone or computer. There's no technical know-how required, so your loved one can just sit back and enjoy looking at the most recent family photos.
Many seniors are tech-savvy, but for older adults who are less familiar with smartphones, computers, and tablets, there are many options for assistance. An at-home caregiver can help facilitate calls and video chats and provide companionship on a daily or weekly basis. In a senior living community, residents have opportunities to learn how to use technology on their own, and help is always nearby to coordinate visits and communication with loved ones.
Low-tech options
Technology is incredible, but there's still value in communicating the old-fashioned way! In fact, snail mail has taken on a new life amid the pandemic. Put a fun spin on traditional letter-writing with these ideas:
Make a handmade card — Skip the store and make your own cards using paint, markers, or stickers. Kids are sure to love getting involved and making artwork for grandma or grandpa!
Send a care package — Pick up some small items your loved one will enjoy, such as their favorite snacks, puzzles, coloring books, or magazines. You can even choose a theme like "sunshine" and include all yellow items. It's an easy and thoughtful way to let your loved one know you're thinking of them!
Share a journal — Find a journal to send back-and-forth with your loved one. Each of you can fill out a page or two at a time with letters, funny moments, and memories. When the journal is full, you'll have a priceless keepsake.
Subscription services — There's a subscription for just about everything these days, from meal kits to books to sock-of-the-month clubs! Look into services that may interest your loved one and deliver a little joy to their door every month.
Now, more than ever, we need to stay connected and look out for the older adults in our lives. If you're concerned about an older loved one living alone, Bethany Village is here to help. Learn more about our senior living options for every lifestyle, better yet schedule a tour!