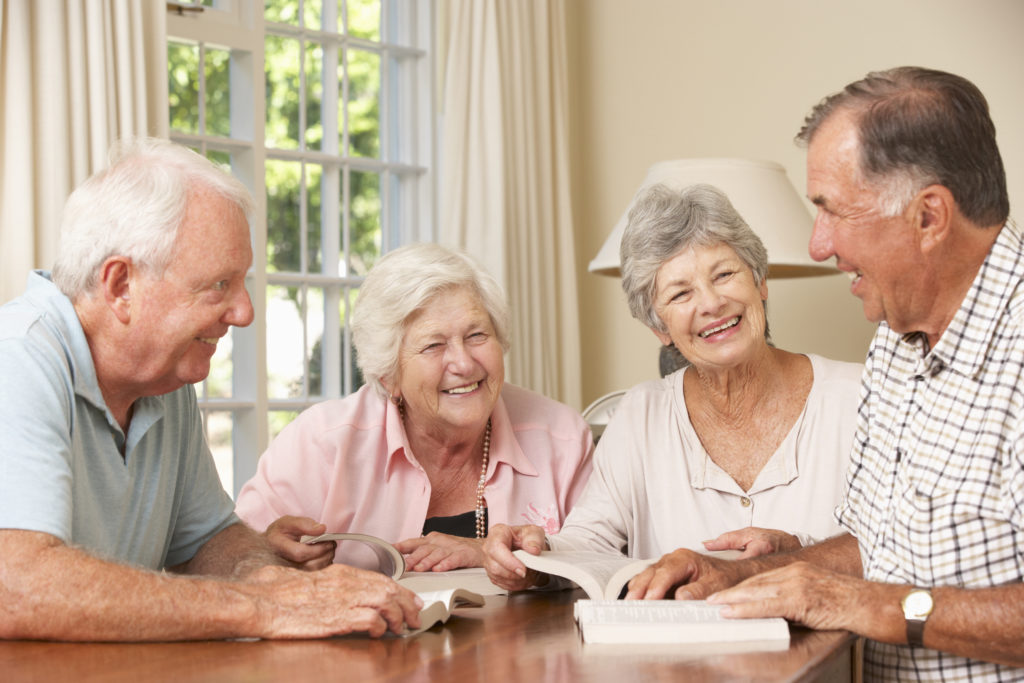 It's only natural to delay making life-changing decisions, especially as we get older and become comfortable with our routines and way of life. That's why, in many cases, it's only when a health crisis or other emergency occurs that older adults and their families realize it's time to make a change. By waiting until it's necessary to choose a retirement community, many families find themselves in a very stressful situation where they have to make rushed decisions.
The good news is that it doesn't have to be this way. Today's continuing care retirement communities (CCRCs) encourage older adults to be proactive about the senior living search and consider moving to a community early—when they are still active, independent, and in good health.
If you like the idea of enjoying your retirement years to the fullest in a maintenance-free retirement community setting, here's why you may want to make the move sooner rather than later:
#1: Expand your social circle
One of the best aspects of retirement is the freedom to spend your days how you choose, enjoying the hobbies and activities you love. However, many retirees soon find that they miss the daily interactions of their workplaces, where socialization was easy because they were always surrounded by peers. It's common for people's social circles to shrink as their routines change in retirement, which can lead to loneliness and isolation over time.
The opportunity to meet new people and form friendships is a compelling reason for older adults to move to senior living earlier in their retirement. Because every day offers opportunities to socialize with like-minded peers and neighbors, many residents find a greater sense of purpose and belonging than when they were living alone at home.
#2: Say goodbye to household chores and maintenance
Another major reason to move into a retirement community early is to embrace a simpler, easier lifestyle. Imagine how nice it would be to never mow the lawn, rake leaves, shovel snow, or fix a leaky faucet again! Other additional conveniences such as light housekeeping and laundry services and on-campus dining may also appeal to independent older adults who desire a more maintenance-free retirement.
#3: Take full advantage of activities and amenities
Modern continuing-care retirement communities, like Bethany Village, have a wide range of activities and amenities designed to enhance life for residents. From book and card clubs to art classes, social parties and happy hours, and more, retirement living offers a variety of experiences to suit residents' interests. The sooner you make the move to senior living, the sooner you can get settled in and take full advantage of everything the community has to offer in your golden years.
#4: Promote healthy aging with wellness and fitness programs
When it comes to aging gracefully, lifestyle factors such as exercise, diet, and mental wellness can be just as important as genetic factors. This is why continuing care retirement communities like Bethany Village place a priority on helping residents stay healthy in mind, body, and soul so they can age well into the future. With access to on-campus fitness centers and exercise programs, nutritious dining options, and even spiritual support services, you'll be able to shape a lifestyle that maximizes your health and helps you feel your best as you grow older.
#5: Ensure a smoother transition
Moving can be difficult at any stage of life. But when older adults wait until a health event necessitates the move from their home to a retirement community, it can make the transition even more challenging. By choosing a continuing care retirement community earlier in retirement, when you're still active and healthy, you can take your time and ease into the process of moving.
Not only will your transition be smoother, but you'll also give yourself (and your family) peace of mind that your health needs will be cared for no matter what the future holds. Continuing care retirement communities offer independent living, assisted living, skilled nursing, and memory care all on one campus. This enables residents to move to the next level of care as their needs change over time without leaving the comfort and familiarity of the community they call home.
It's not too early to plan for your ideal retirement!
If the prospect of a more maintenance-free retirement lifestyle appeals to you, why wait to enjoy all the benefits and amenities a continuing care retirement community has to offer? Even if you're not quite ready to move, getting a head start on the retirement community search can help you compare your options and make the decision that's best for you and your family.
Are you interested in learning more about life at Bethany Village? Please contact us today. We would be delighted to speak with you and provide additional information.