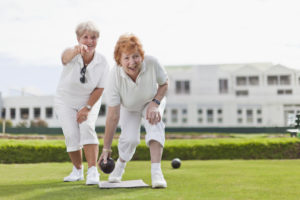 After a long, chilly winter, it's a great feeling to know that spring is on its way. As the weather warms up, there's no better time to get some fresh air, soak up the sunshine, and embrace all that spring has to offer!
Shake off the winter blues with one of these fun springtime activities:
Take a springtime stroll. Walking is an easy, low-impact endurance exercise that's especially beneficial for older adults. Sunny spring days can provide even more motivation to get moving outside. At Bethany Village, residents enjoy springtime strolls on our beautiful Life Trails located throughout the retirement village.
Spring clean your space. The change in seasons offers a great excuse to freshen up your living space and get organized. Take some time to sort through items like clothing, books, and other housewares and donate anything you don't need anymore. It's amazing how much lighter you can feel after freeing your space from clutter!
Start a garden. Gardeningis a wonderful springtime activity for people of all ages. It's also a good form of exercise that helps to reduce stress levels and promote relaxation! Head outside to start a garden, or bring nature indoors with potted herbs, succulents, or other easy-to-grow houseplants.
Enjoy nature. Wildlife becomes more active in the spring, providing even more opportunities to observe and appreciate nature's beauty. One popular activity for older adults is birdwatching or "birding." It's fun to learn about local species and keep track of the birds you spot. You can also enjoy the sights and sounds of spring from the comfort of home by setting up a bird feeder or birdbath outside a window.
Create a craft. Express your creativity with spring-themed craft such as pressed flowers, paper chain garlands, or handmade cards. As it gets closer to Easter, decorating eggs is an easy activity that grandkids are sure to love.
Spring into new activities!
Spring is all about new beginnings. Why not switch up your routine and try a new activity or hobby this spring? In a retirement village like Bethany Village, residents have a wide variety of engaging events and activities to choose from. With everything from fitness classes to book clubs and art classes, there's never a dull moment!