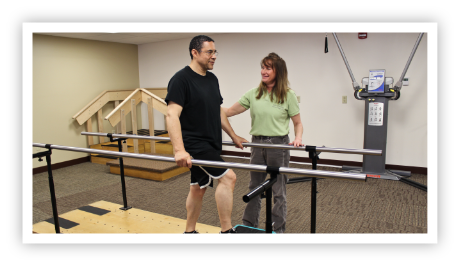 When an older loved one is discharged from the hospital following a major illness, injury, or planned surgery like a hip or knee replacement, their doctor may recommend short-term skilled rehabilitation to help them fully recover.
It's understandable if you have questions about successfully navigating the rehabilitation process. Read on to learn more about senior rehab and what to expect while your loved one is recovering.
What is short-term senior rehabilitation?
During rehabilitation, older adults receive therapy treatments and other care services to promote their full recovery. A stay in a short-term senior rehab center usually lasts anywhere from a few weeks to about a month.
Short-term rehab usually includes therapies such as:
Physical therapy, which helps older adults improve their strength, mobility, and flexibility following a fall, surgery, or injury. Physical therapy exercises are an effective way to alleviate pain and discomfort in the recovery process. In physical therapy, older adults also learn techniques to help prevent another fall or injury.
Occupational therapy is used to help older adults recovering from an illness or injury learn exercises and techniques that make everyday living tasks much easier. Practicing skills such as loading the dishwasher, doing laundry, or preparing to cook in occupational therapy can help older adults regain confidence and get back to their highest level of independence.
Speech therapy helps older adults dealing with conditions that impact their communication, swallowing, and cognitive skills such as brain injury, stroke, and Parkinson's disease.
Depending on your loved one's needs, their rehabilitation may also include skilled nursing services such as wound care, medication management, and IV treatments.
What are the benefits of senior rehabilitation?
The goal of senior rehabilitation is to help older adults heal, recover, and get back to doing what they love. Beyond the obvious physical health benefits, participating in rehabilitation can also provide mental and emotional health benefits, such as:
Restored self-confidence — It's common for anyone to lose confidence when faced with health issues. As older adults make progress and reach their goals in rehab, it will help them restore their confidence and stay motivated to keep going.
Reduced stress — Recovering from a serious illness or injury can be stressful. The therapists and skilled caregivers in senior rehabilitation understand how to help older adults stay positive and focus on their recovery.
Enhanced quality of life — Ultimately, active participation in rehabilitation helps older adults return to their highest level of function and continue living their best life.
Can you choose a senior rehab center?
Your loved one's doctor may suggest going to a certain rehab center, but you're not required to use that facility. You're free to choose where you want to complete the rehab. Some families prefer at-home care, so their loved ones can receive therapy and other care services in the comfort of home.
Sometimes, older adults need support that can't be provided at home. In this case, a good option is to stay in a senior rehabilitation center that's part of a larger retirement community.
The Bethany Rehabilitation Center is a state-of-the-art therapy facility located on the beautiful Bethany Village campus. Our expert team is made up of over 30 dedicated care professionals, including nurses, therapists, social workers, dieticians, a life enrichment coordinator, and a chaplain. Together, they provide the full spectrum of care, focusing on healing in mind, body, and spirit.
Your loved one will receive rehabilitative services that are tailored to their needs in a relaxing, peaceful setting. Therapy is offered six days a week in our expansive gym, which offers the most advanced rehabilitation equipment. When they're not receiving treatment, your loved one can enjoy chef-prepared meals, participate in enriching activities, or relax in their private room. A nurse case manager will oversee all details of your loved one's recovery, including support for their return home.
Learn more about the Bethany Rehabilitation Center
A physician's order is needed to treat in the Bethany Rehabilitation Center, but we always welcome inquiries, and visits can be arranged for those interested in learning more. Please contact us to get more information or set up a visit.